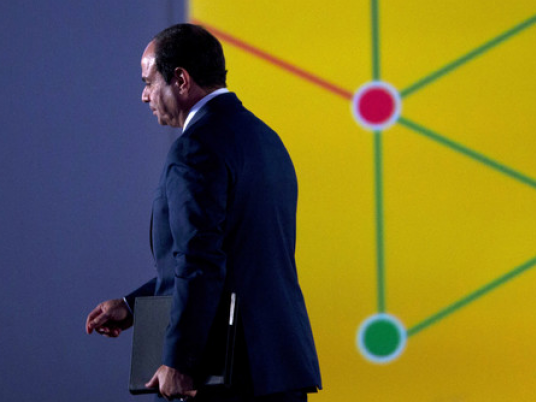 Egyptian President Abdel Fattah al-Sisi has announced his third major initiative to support the Egyptian economy by directing money from citizens' pockets to fund national projects.
Announcing the new scheme from Alexandria on Monday, Sisi called on all Egyptians to donate their "spare change" to fund national projects.
During the inauguration of the "Bashayer al-Kheir" housing project in Alexandria's Gheit al-Enab area, Sisi called on bank officials to find a mechanism to collect the small change resulting from banking transactions in a bank account that would be used to implement service projects.
"Change like 50 piastres and one pound in transactions can be put into an account for projects and services," Sisi said.
Since taking office in June 2014, Sisi has already suggested two initiatives to support the Egyptian economy: the "Long Live Egypt" fund, and the "Say Good Morning Egypt and Donate a Pound" initiative.
This new initiative has been dubbed "Leave the Change in the Banks".
The "Long Live Egypt" fund was launched originally in June 2014, but in February this year Sisi called on citizens to donate one pound each morning using mobile phones. Telecom Egypt and other telecommunications companies allocated lines for the donations through SMS.
When Sisi announced the launch of the "Long Live Egypt" fund, he also said he would donate half his salary, which stands at LE42,000 in total, and half his wealth to support the economy. A week later, the fund was established by the presidency.
Edited translation from Al-Masry Al-Youm