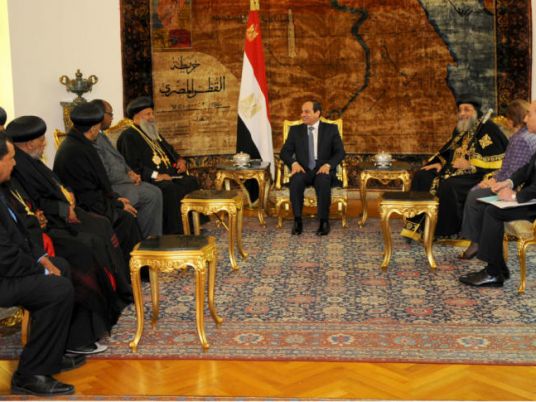 President Abdel Fattah al-Sisi received Pope Tawadros and several senior figures in the Coptic Orthodox Church on Thursday for discussions on relations between Egypt's religious communities, which have been under pressure due to ongoing sectarian attacks.
During the meeting, Sisi stressed the unity and brotherhood of all Egyptians, both Muslim and Christian, according to Alaa Youssef, a spokesperson for the presidency.
He also suggested several causes for optimism in the search for improved relations between members of different faiths, including improvements resulting from government policies.
"The development of the education and culture sectors will undoubtedly contribute to the consolidation of the concepts of citizenship and equality, which requires more time, patience and sincere and tireless efforts," he quoted Sisi as saying.
Sisi praised the wisdom and patriotism shown by Egyptian Christians in dealing with the challenges that faced Egypt over the past few years, and stressed that all Egyptians are equal in rights and duties under the Constitution.
The president also pointed out efforts being made by the state to build new cities, particularly in a number of Upper Egypt governorates, such as the developments in Minya and Assiut. He said these new cities would include houses of worship for both Muslims and Christians, and would help to provide a better life for members of both communities.
Church leaders praised Sisi's efforts to uphold national unity and the state's efforts in the reconstruction of churches and building new ones in new cities.
During a recent meeting with members of the parliamentary committee on religion, Tawdros, expressed his concern over the alarming number of sectarian attacks in Egypt in recent years, saying that people must face the reality of the situation.
The religious leader added that said the Coptic Church is dealing with a great deal of anger on the part of Copts, both those living in Egypt and abroad. He said that such anger cannot be held at bay indefinitely.
Since the January 25 uprising in 2011, Egypt has witnessed many incidents of sectarian violence, often in rural areas.
Minya has been the scene of several sectarian clashes recently. Last week, a young Christian man was killed and three others injured in a knife fight in Tihna al-Jabal village, an incident sparked by an alleged verbal attack on a local priest.
In May, an elderly Coptic woman was stripped of her clothes and dragged through the streets of Karam village, Minya, after rumors spread that her son was having an affair with a local Muslim woman. Several Christian homes were torched that same week as a result of the tensions.
Additionally, last Friday, a mob in the village of Saft al-Kharsa in Beni Suef attacked a building under construction on Friday afternoon after a rumor went round that it was to be an unlicensed church. The attack led to the destruction a Christian man's house and a car.