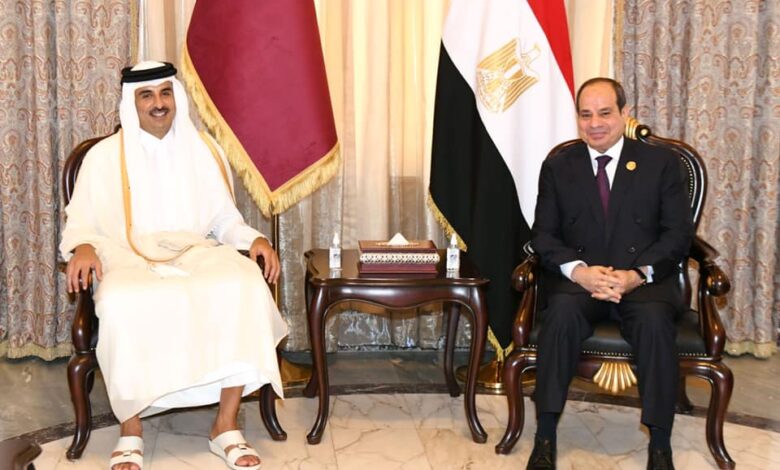 Egyptian President Abdel Fattah al-Sisi on Saturday met with the Emir of Qatar Tamim bin Hamad al-Thani in Iraq's capital Baghdad.
The spokesperson for the Egyptian Presidency Bassam Rady said that Sisi affirmed his nation's keenness towards fruitful cooperation for the sake of beneficial development, and its support towards Arab solidarity based on mutual respect.
The Emir of Qatar expressed his appreciation for the positive developments in the Egyptian-Qatari relations, and praised the recent exchange of visits between both nations.
He affirmed Qatar's desire to enhance bilateral relations that serve the needs of the both countries, especially in light of the strategic and pivotal role that Egypt plays under the leadership of the President Sisi in maintaining regional stability.
According to Rady, the meeting also discussed the importance of continuing all consultations and working to advance relations, with the aim of restoring various bilateral cooperation mechanisms, in line with the progress witnessed in the course of the Egyptian-Qatari relations based upon what was stipulated in the al-Ula Declaration.
Egyptian Foreign Minister Sameh Shoukry said in June that that the Egyptian-Qatari relations are on the right track following several meetings between the two sides to follow up on the al-Ula summit in Saudi Arabia back in January.
Egypt and Qatar agreed to resume diplomatic relations in January. The agreements come after nearly four years of a row between Qatar and Egypt, Saudi Arabia, Bahrain, and the UAE over Qatar's alleged terrorism sponsorship and its close relations with Iran.
Egypt's Foreign Ministry has acknowledged in January the agreements, which came as part of the "solidarity and stability" agreement signed by Saudi Arabia, the United Arab Emirates, Oman, Kuwait, Bahrain, and Qatar during the Gulf Cooperation Council (GCC)'s summit meeting in al-Ula.
Egypt and the other three countries involved in the dispute agreed to restore ties with Qatar immediately after the summit. The dispute included a trade and travel embargo against Qatar by the Arab quartet, which has now been lifted.
Despite the agreement, Egypt likely remains wary of Qatar due to its connections with the Muslim Brotherhood and the harsh coverage Cairo receives from Qatari media, specifically state-run Al Jazeera.