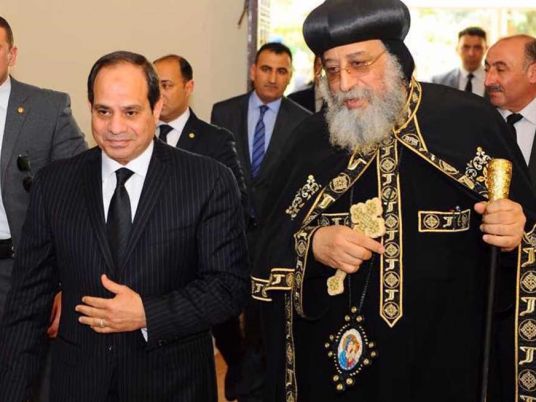 President Abdel Fattah Al-Sisi paid a visit to St. Mark's Coptic Orthodox Cathedral in Abbassiya on Thursday afternoon and met with Pope Tawadros II to offer his condolences for the victims of the Palm Sunday attacks in Tanta and Alexandria.
Sisi asserted that the government will do its best to arrest the perpetrators of the two deadly attacks that targeted St. Mark's Orthodox Cathedral in Alexandria and Mar Guirgis Church in the city of Tanta.
According to a statement released by the presidency, the families of the victims in both attacks will receive full care from the government. The state is working hard to eliminate terrorism, as is represented in its all apparatuses, Sisi said.
The Palm Sunday attacks were carried out by suicide bombers and led to the death of 45 people and injury of more than 140 others.
Directly following the attack, the Islamic State-affiliated group Sinai Province declared its responsibility for the attacks in a statement and mentioned the names of two suicide bombers who committed the attacks and further pledged to carry out more attacks against Copts.
On Wednesday, the Interior Ministry announced that it managed to reach the identity of the person who committed the suicide attack against the church of St. Mark's Orthodox Cathedral Church in Alexandria, adding that investigations are still ongoing to reach the identity of the Tanta perpetrator.