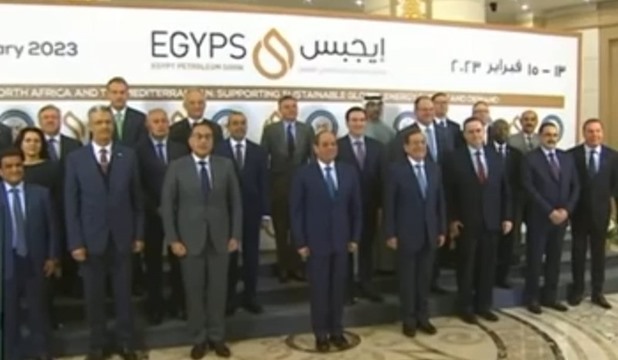 President Abdel Fattah al-Sisi posed for a photo op with participants of Egypt International Petroleum Conference and Exhibition (EGYPS 2023), which kicked off early Sunday under the theme 'North Africa and The Mediterranean: Supporting Sustainable Global Energy Supply and Demand'.
The photo brought together Prime Minister Moustafa Madbouly, Petroleum Minister Tarek el Molla and heads of the major international companies operating in the energy and petroleum domains.
Sisi arrived earlier in the day at the Cairo International Conference Centre (CICC) to open the sixth edition of EGYPS 2023.
CEOs of oil and natural gas sectors worldwide are taking part in the event alongside a cluster of energy ministers, government representatives, senior EU officials, secretaries of major international energy organizations, and energy business tycoons.