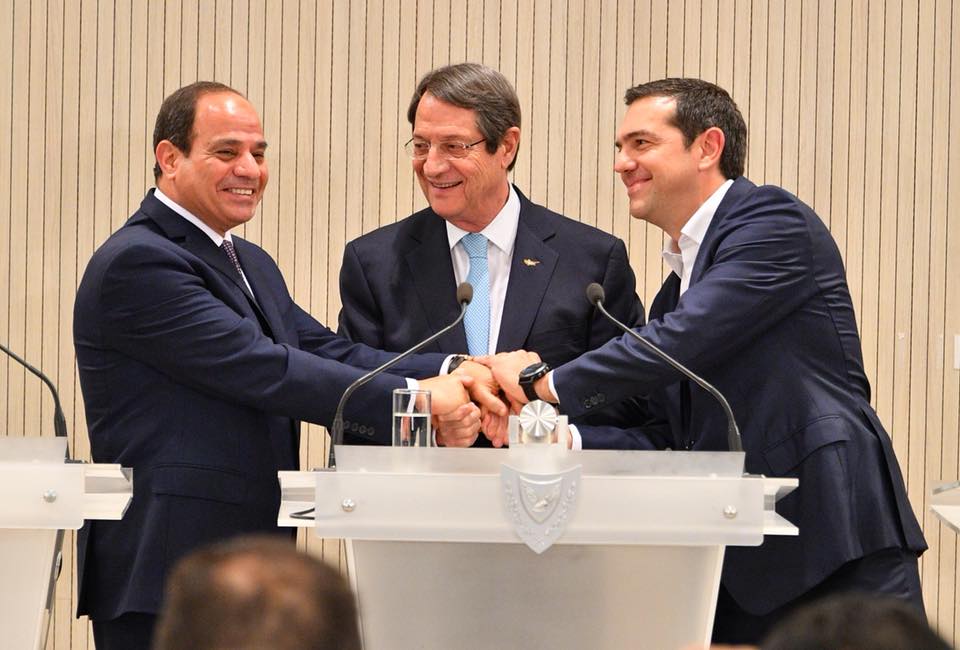 President Abdel Fattah al-Sisi on Saturday ratified the approval of a joint Egyptian-Greece maritime deal for an exclusive economic zone signed back in August.
The agreement entered into force on September 2 as per a decision issued by Minister of Foreign Affairs Sameh Shokry to partially demarcate the maritime borders.
Egypt's official gazette published the agreement in full, which stipulates that Egypt and Greece shall notify each other regarding any negotiations with a third country regarding demarcating economic maritime zones.
The agreement added that the discovery of any natural discovery within the zone shall be shared between Egypt and Greece to best utilize it.
Egypt's ​Ministry of Petroleum and Mineral Resources back in August said that the new maritime border demarcation agreement with Greece would allow for more bids to be launched regarding oil and gas exploration in the Mediterranean.
The ministry's spokesperson Hamdy Abdel-Aziz said that Egypt and Greece are members in the Eastern Mediterranean Gas Forum, which will be leveled into an international organization.
The volume of gas reserves in the Mediterranean is 300 trillion cubic feet, Aziz added, stressing that international expertise confirms that the Mediterranean's waters are rich in petroleum products.
The Turkish Ministry of Foreign Affairs claimed that the agreement to demarcate the maritime borders between Egypt and Greece covers a region that is part of the Turkish continental shelf.
It added that Turkey considers this agreement a violation of Libyan maritime rights as well.
The UAE and Bahrain welcomed the agreement to demarcate the maritime borders between Egypt and Greece, establishing an exclusive economic zone between them.