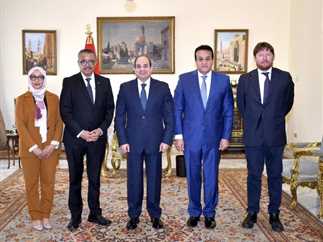 President Abdel Fattah al-Sisi received the Director-General of the World Health Organization Tedros Adhanom, in the presence of Egyptian Health Minister Khaled Abdel Ghaffar.
The meeting discussed means to enhance cooperation with the WHO on various public health initiatives in Egypt, especially the relevant presidential initiatives, in addition to supporting the comprehensive health insurance system, which would contribute to achieving the goals of sustainable health development for Egypt's Vision 2030.
Sisi affirmed Egypt's keenness to develop cooperation with the World Health Organization to strengthen the health care system and medical services in Egypt.
He referred to various health initiatives by the government – most notably the "100 Million Healthy Lives" initiative, which aims to preserve the health of Egyptians according to the highest international standards, end waiting lists for critical surgeries, and to implement comprehensive health insurance in all governorates, the official spokesperson for the Presidency of the Republic stated.
Sisi praised the role of the World Health Organization and the efforts made by Adhanom during the coronavirus pandemic, especially with regard to providing vaccines.
Adhanom expressed his honor to meet Sisi and praising Egypt's efforts in health care. He assured the World Health Organization's interest in strengthening cooperation with Egypt in a framework that enables benefiting from the Egyptian experience.