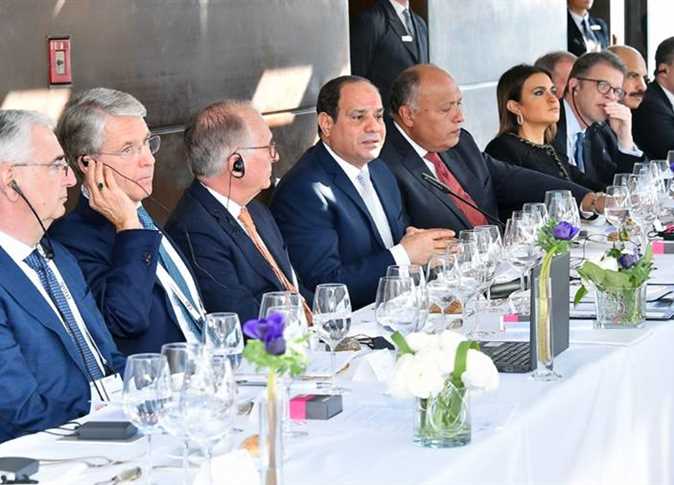 Egyptian President Abdel Fattah al-Sisi took part in a business lunch organized by the Munich Security Conference in the presence of Federal Minister for Economic Affairs and Energy Peter Altmaier and Wolfgang Eichinger, the president of the conference.
Presidential spokesperson Bassam Rady said that some heads of major German and international companies attended the business lunch, including Deutsche Bank, Commerzbank AG bank, the heads of Allianz insurance company, Mercedes, BMW, Volkswagen, Airbus, Siemens, and the Federation of German Industries.
Other representatives for international companies working in the fields of telecommunications and electronics, media, financial services, asset management, investment funds, pharmaceuticals, and military industries, as well as representatives of international strategic research centers, also attended the meeting.
During the meeting, Sisi affirmed Egypt's aspiration to expand the horizons of cooperation during the coming period, attract more foreign direct investments and launch joint projects in various fields, taking into consideration that these projects will not only meet the needs of the Egyptian market, but also Arab and European countries having free trade agreements with Egypt.
The president reviewed the economic achievements made in Egypt since launching the ambitious economic reform program based on a package of financial and monetary measures to address structural imbalances, control the state budget and provide an enabling environment for attracting foreign investments, which in turn reflected positively on macroeconomic indicators and credit in accordance with specialized international institutions.
Sisi noted the advantages of the Egyptian economy in terms of availability of the necessary infrastructure and low-cost skilled manpower, as well as unprecedented financial and tax incentives provided by the new investment law, large market size, and appropriate legislative structure.
Sisi also pointed out that the Egyptian government has been implementing a series of major national projects to stimulate the economy and boost growth rates, as well as developing Egypt's capacity to produce and provide energy and diversify its sources, as this will enable it to increase its production capacities.
Rady said that some heads of international companies praised the climate of stability witnessed by Egypt, both on the security and economic levels, which provides promising investment opportunities in many areas and encourages the expansion of investment in Egypt.
Edited translation from Al-Masry Al-Youm