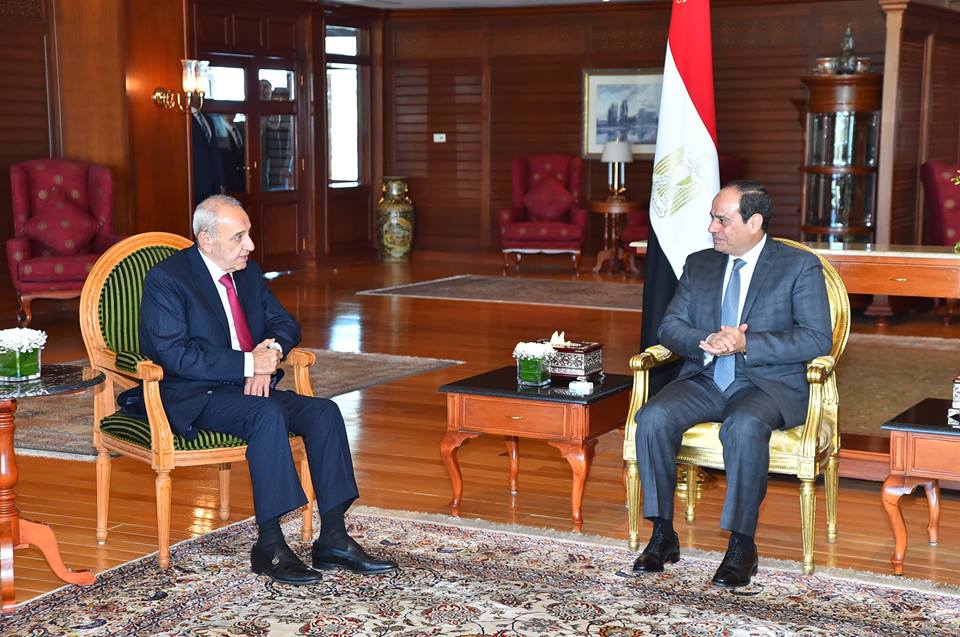 President Abdel Fattah al-Sisi reiterated on Sunday Egypt's interest in Lebanon maintaining its security and stability against the country's current challenges, presidential spokesman Bassam Radi said.
Sisi's remarks came during his meeting with Lebanese Parliament Speaker Nabih Berri, who is participating in the four-day World Youth Forum (WYF), due to kick off later today.
Sisi stressed that only the Lebanese should be concerned with reaching the political formula they desire, which achieves the interests of the Lebanese people.
The spokesman noted that Sisi welcomed the Lebanese speaker and voiced his appreciation for his keenness on participating in the WYF.
Sisi also praised the depth of Egyptian-Lebanese relations and voiced hope over further promoting them in various fields, the spokesman added.
The Lebanese speaker, for his part, voiced his appreciation for the Egyptian people, the government and the efforts exerted to convene the WYF which will address important international issues, said the spokesman.
Berri also voiced hope over activating economic and investment relations between the two countries to match the political relations, the spokesman added.
The meeting discussed regional issues of common interest as well as the latest developments in Lebanon.
Sisi also highlighted the need to avoid all aspects of tensions and sectarian strife and reiterated his rejection of any interference in Lebanon's internal affairs.
Sisi also underlined the importance of reaching an agreement among the various Lebanese factions in order to reach a political agreement.