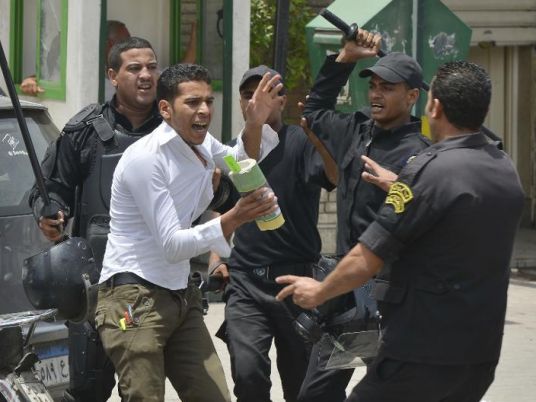 Egyptian President Abdel Fattah al-Sisi told Interior Ministry officials on Wednesday it is important to deter "irresponsible" actions, the presidency's spokesman said, one day after a low-ranking policeman killed a tea vendor during a quarrel.
The incident, which took place on Tuesday in the Rehab neighbourhood on the outskirts of Cairo, is the most recent in a series of incidents that stirred up public anger over purported police violence in Egypt.
Earlier on Wednesday, the Egyptian prosecution ordered the detention of the low-ranking policeman for four days pending investigation.
In a meeting with the interior minister and ministry officials on Wednesday, the Egyptian president discussed proposed legislative amendments to the police authority law to regulate police performance on the streets in line with "human rights standards," Presidential Spokesman Alaa Youssef said in his statement.
Sisi urged the officials to finalize necessary procedures required to approve the amendments to be presented to the parliament for approval, according to the statement.
While human rights workers, activists, and even non-politicised civilians have been complaining of police brutality in recent months, the Interior Ministry maintains that these are "isolated incidents" that do not reflect on the ministry's policies.
On February 18, a policeman shot dead a driver in the al-Darb al-Ahmar neighbourhood during an argument over the price of transporting goods.
The incident sparked public outrage at the police and hundreds protested in Cairo's streets after the killing, in an expression of anger that has become rare in the past few years.
In January, a doctor at the Matariya Teaching Hospital recounted in a video, published by Egyptian news portal Mobtada, the details of his assault by two low-ranking policemen at the hospital after he told one of them that his injury was superficial and could not be officially recorded as serious.
The incident prompted thousands of doctors to rally in front of the Doctors Syndicate in February demanding that those responsible for the assault be held accountable.
Police brutality was one of the triggers of the January 25, 2011 uprising, sparked by protests on Police Day in Egypt aimed at drawing attention to the use of excessive and often fatal force by police.