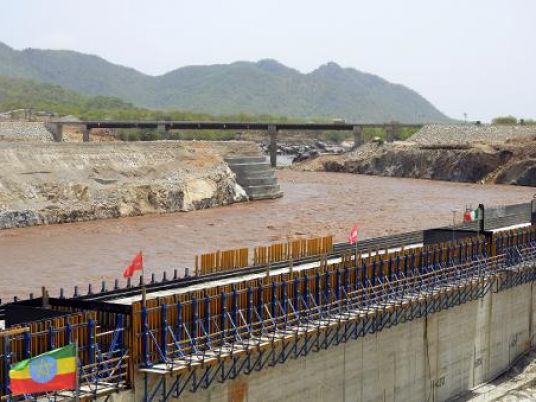 President Abdel Fattah al-Sisi said that an agreement must be reached on the regulations governing the filling of the Renaissance Dam with Nile water, in accordance with the Declation of Principles signed in Khartoum.
He also stressed the need for continuing cooperation between Egypt and Ethiopia to ensure the optimum utilization of the shared water resources between the Nile Basin countries in a way that achieves development.
At a meeting with the Ethiopian Foreign Minister Workneh Gebeyehu on Wednesday afternoon and Egypt's Foreign Minister Sameh Shoukry, Sisi referred to the importance of positive communication with the company responsible for conducting studies on the Renaissance Dam so as to finish these studies as soon as possible.
Gebeyehu relayed Ethiopian Prime Minister Hailemariam Desalegn's salutations to Sisi and gave him a letter from Desalegn, stressing his keenness to develop and deepen relations with Egypt on all levels, presidency spokesperson Alaa Youssef said in a statement.
The letter praised the development of Egypt-Ethiopia communication over the past three years.
Sisi said he hopes to hold the joint high committee between the two countries in Cairo soon and to welcome Desalegn to Egypt to discuss means of developing bilateral relations at various levels. He also stressed that Egypt's foreign policy is based on establishing balanced and open relations with all countries, pointing out that Egypt does not conspire nor interfere in the affairs of other countries.
The Egyptian and Ethiopian foreign ministers agreed to hold regular meetings between Cairo and Addis Ababa every two months to build confidence in one another and elimiate any tension that could affect the course of the joint relations.
Gebeyehu said the Ethiopian people and government do not intend to harm the people of Egypt, pointing out that he assured Sisi and Shoukry that Ethiopia will not work against the interests of Egypt.
Edited translation from Al-Masry Al-Youm