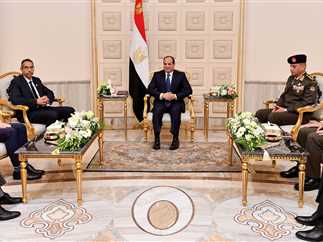 President Abdel Fattah al-Sisi stressed the strong bond between Egypt and Cyprus in various fields and the positive developments currently unfolding which will make the two countries a model for positive and constructive cooperation in the Mediterranean region.
He expressed his hope to continue to develop military cooperation and joint exercises between the two countries.
During his meeting with Cyprus Defense Minister Savas Angelides, Egypt's Minister of Defense and Military Production Zaki, and the ambassador of Cyprus in Cairo on Sunday, on the sidelines of the "EDEX 2018" military exhibition, Sisi welcomed the participation of the Cypriot Minister of Defense.
The exhibition is of importance in being the first of its kind in the North and Central Africa region. The most important companies specialized in this field from around the world are taking part in the exhibition, Sisi said. It also represents an opportunity for those interested in the defense industry to learn about the latest developments in military technology, he added.
Angelides praised Egypt's organization of the exhibition, and expressed his admiration for the remarkable participation of the world's leading companies in this field, which confirmed Egypt's pivotal role in the Middle East and the Mediterranean region.
The minister also stressed the relations between the two countries, pointing to his country's aspiration to open up new horizons for cooperation to serve the interests of both nations.
Edited translation from Al-Masry Al-Youm