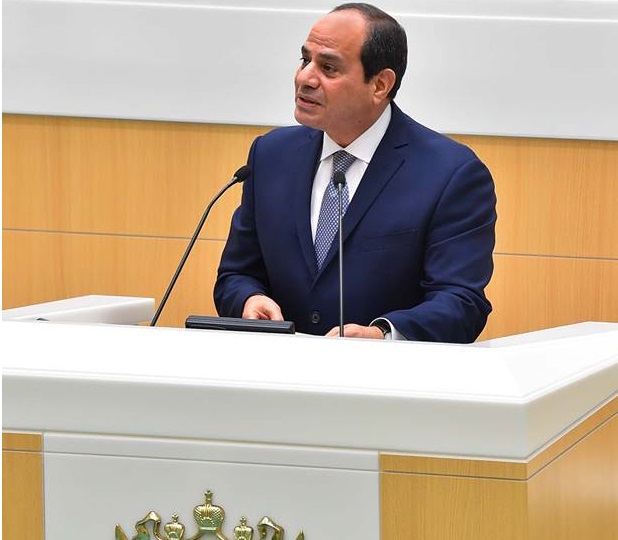 Egyptian President Abdel Fattah al-Sisi said during his visit to Russia that the strong relations between the two countries have been deep and distinguished, especially during times of crisis.
Sisi's visit comes as Egypt and Russia celebrate the 75th anniversary of the establishment of diplomatic ties.
"Russia, government and people, has always been the first to stretch a helping hand to Egypt, especially in reclaiming occupied land. Egypt will also not forget Russia's contribution to its development and reconstruction process, such as when Moscow supported Cairo in building the High Dam and other major projects," Sisi said during his speech at the Russian Federal Council.
He pointed out that these historical examples of support will always be in the minds of the Egyptian people. Sisi expressed pleasure for being the first foreign president to address the Russian Federal Council, and hoped that this meeting would enrich the friendship between the two countries.
President Sisi also hoped that the coming few years would see the completion of the Dabaa nuclear plant, as the project will be a landmark in the process of Russia and Egypt's cooperation and is the first nuclear power plant in Egypt.
Sisi stressed the importance of the Russian industrial zone in eastern Suez Canal, saying that the project serves as yet another example of strong partnership between the countries.
He added that Egypt is looking forward to more cooperation with Russia in the face of challenges like the spread of terrorism, given that terrorism is a threat to all of humanity.
Members of the Russian Federation Council received President Sisi with a warm welcome and a strong applause, reflecting their keenness on welcoming strong relations.
"It is a great honor for us to have President Abdel Fattah al-Sisi, the first head of state in the world to speak before the Russian Federation Council," said Valentina Matviyenko, chairwoman of the Russian Federation Council.
She noted that she remembers the meeting that took place with President Sisi during an official visit to Egypt last year, where she held talks on ways to strengthen Egyptian-Russian relations, which reflected the keenness of President Sisi to affirm mutual respect between the two countries and preserve their interests.
Matviyenko said that President Sisi is a distinguished political figure with wisdom and foresight, who is loyal to his country.
Edited translation from Al-Masry Al-Youm.