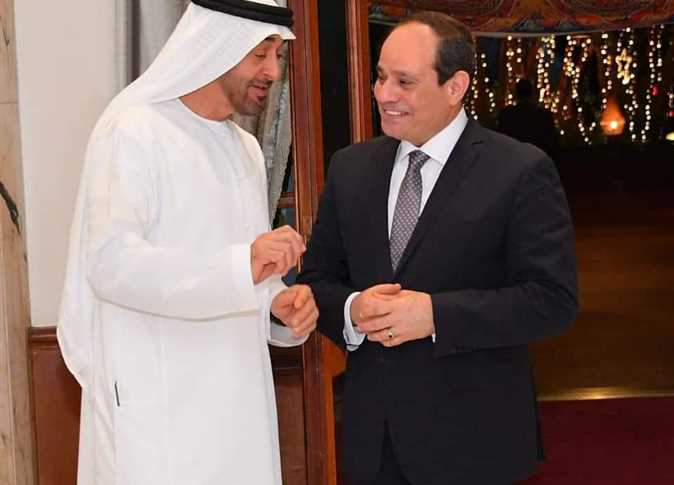 Egyptian President Abdel Fattah al-Sisi met with Crown Prince of Abu Dhabi and Deputy Supreme Commander of the UAE Armed Forces Mohammed Bin Zayed al-Nahyan on Wednesday to hold bilateral talks on regional developments.
Egypt's presidential spokesman Bassam Rady said that Sisi stressed during the talks the importance of Egyptian-Emirati relations as a model of strategic cooperation the Arab brothers.
Sisi stressed the importance of continuing to improve the framework of cooperation with the UAE in various fields.
Rady added that Bin Zayed stressed the keenness of the UAE to continue to develop and strengthen mechanisms of bilateral cooperation in various fields to achieve the common interests of the two peoples that share ties of allyship and brotherhood.
Rady said that the talks between the two sides dealt with the latest developments in the regional situation, especially in light of the events taking place in the Gulf region, as four ships near the coast of the UAE have been subjected to sabotage acts in addition to the attack on two oil pumping stations in Saudi Arabia. Egypt has condemned these incidents.
The President expressed the full solidarity of Egypt with the UAE and Saudi Arabia in confronting all attempts to undermine the security and stability of the two brotherly countries. He stressed Egypt's steadfast stance towards the security of the Gulf region as an integral part of Egypt's national security.
Egypt and the UAE have a substantial economic and political relationship that developed after President Sisi gained power in 2013. The UAE has offered considerable financial support to Egypt.
According to latest indices, Egypt's exports to the UAE jumped during the first half of the 2017-2018 fiscal year, reaching US$1.204 billion compared to US$1.126 billion during the same period of 2016, marking a seven percent increase.
Edited translation from Al-Masry Al-Youm