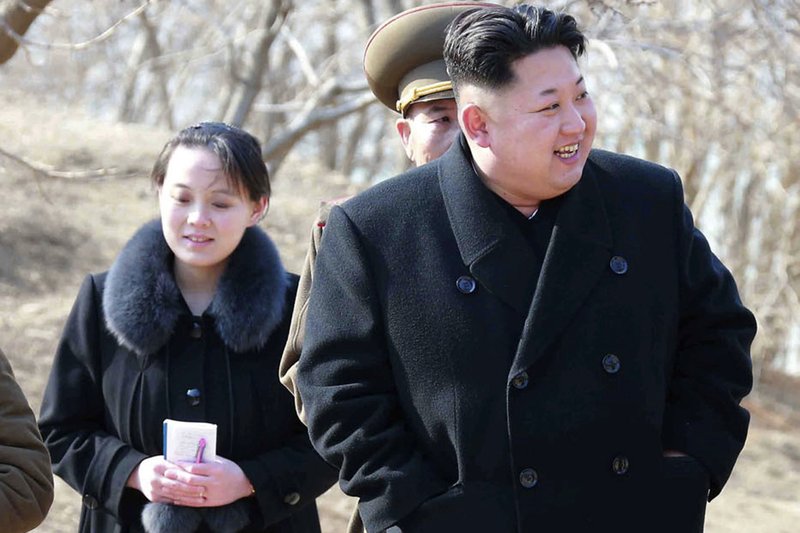 North Korean leader Kim Jong Un's sister, an increasingly prominent figure in the country's leadership herself, will be part of the North's delegation coming to South Korea for the Pyeongchang Winter Olympics, Seoul said Wednesday.
South Korea's Unification Ministry said North Korea informed it Wednesday that Kim Yo Jong, 1st vice director of the Central Committee of North Korea's ruling Workers' Party, would be part of the delegation led by the country's nominal head of state Kim Yong Nam.
North Korea also said the delegation will include Choe Hwi, chairman of the country's National Sports Guidance Committee, and Ri Son Gwon, chairman of the North's agency that deals with inter-Korean affairs.
Seoul previously said the delegation would arrive Friday but the statement Wednesday was the first confirmation a member of the North's ruling family would be included.
Kim Yo Jong, believed to be in her late 20s or early 30s, was promoted by her brother last year to be an alternate member of the decision-making political bureau of the ruling party's central committee, which analysts said showed that her activities are more substantive and more important than previously thought. She is believed to be one of Kim Jong Un's closest confidants. They were born to the same mother, Ko Yong Hui.
The war-separated rivals are cooperating for a series of conciliatory measures during the Olympics, which Seoul sees as an opportunity to ease tensions with Pyongyang following an extended period of animosity over its nuclear weapons and missiles program. Skeptics think the North is trying to use the Olympics to weakened US-led sanctions and pressure against the country and buy more time to advance its nuclear weapons and missiles program.
North Korea has 22 athletes competing in the Winter Olympics but also has sent artists and a cheering squad.
A decision by South Korea to send the artists by sea has triggered debate in the South, where conservatives saw the move as a sure-fire sign that the North is trying to use the Olympics to ease the pressure against the country.
South Korea is reviewing whether to meet North Korea's request to provide fuel to the ferry that transported the artists. Seoul exempted the ferry from sanctions to allow it in South Korean waters.
"We will closely discuss with the United States and other related nations the matter of providing convenience to the Mangyongbong ferry so that no problem regarding sanctions would occur," Seoul's Unification Ministry spokesman Baik Tae-hyun said.