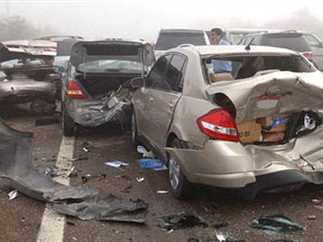 Six people have died and three were injured in a four-car-carsh in Ras Sedr tunnel highway, reported Al-Masry Al-Youm.
Head of South Sinai Security Ahmed Abu Akil was notified of the crash on Thursday. Authorities reported that the first car carried petroleum substances, while the second was a wood transporter, the third carried bricks and building substances, and the fourth was a passenger car.
The tragic collision took the lives of Ismail Shawki Ahmed (28), Alaa Sultan (28), Mahmoud Nafadi (28), Hisham AbdelHamid, Mohamed AbdelShafi and Ismail Mubarak.
The incident also injured Abdu Salem (63), Ikrami Abdu (26) and Fathi Haggag (18).
All bodies and injured people have been transported to Ras Sedr local hospital, and investigations are currently underway.
Egypt loses roughly 12,000 lives due to road traffic crashes every year. The densely-populated country has a road traffic fatality rate of 42 deaths per 100,000 people, according to the World Health Organization (WHO). A pluraity of 48 percent of those killed are passengers of four-wheelers, although pedestrians also constitute a significant 20 percent of these fatalities.
According to a Central Agency for Public Mobilization and Statistics (CAPMAS) report on 2016 accidents, the highest cause of accidents was human error at 72.0 percent, followed by vehicle defects (technical condition of the car) at 18.2 percent, and environmental factors such as road conditions at 3.1 percent.
Edited translation from Al-Masry Al-Youm.