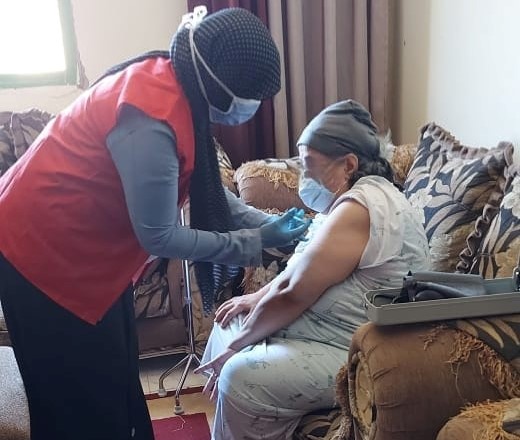 Mahmoud Shaaban, Director of the Early Childhood Department at the Ministry of Social Solidarity, announced that the ministry had succeeded in vaccinating 98 percent of seniors in some care homes, amounting to almost 3,000 seniors.
He explained on Sunday that more than 2,940 elderly people in these homes received the vaccine, amounting to about 98 percent, while the remaining two percent are still hesitant.
Shaaban pointed out that the conditions are stable inside care homes, and all precautionary measures have been taken, including sterilization, temperature checks, reducing visits, and other measures to protect against the virus.
The privately-owned al-Dostor reported Shaaban as saying that the Ministry has set up a hotline with the Health Ministry to follow up on the conditions of the elderly in care homes and provide all their health and treatment needs.
Social Solidarity Minister Nevine al-Kabbaj said, in previous statements to Dostor, that her ministry has a plan to provide vaccines for the most vulnerable groups.
Kabbaj added that vaccination has started for people with disabilities, pointing out that with regard to orphans, vaccinations will be provided to them as soon as this is allowed, as they are still under 18 years old.
She explained that in addition to the elderly and homeless in care homes, vaccinations will be provided to the elderly who benefit from the ministry's Takaful and Karama (solidarity and dignity) program. Through the program, the ministry provides cash support to about 400,000 elderly people, with a total of LE2 billion annually.
Egypt's vaccination campaign that began in January has so far vaccinated 2.5 million people, out of Egypt's population of 102 million.
Egypt is currently using China's Sinopharm vaccine and the UK's AstraOxford vaccine. The Ministry of Health has announced that it will soon begin producing Russia's Sputnik V alongside Sinovac at VACSERA.
Egypt expects to receive, within days, two million doses of the Pfizer coronavirus vaccine, followed by doses of Johnson & Johnson's Janssen vaccine.
It will also employ the first doses of the locally produced Sinovac vaccine in early August