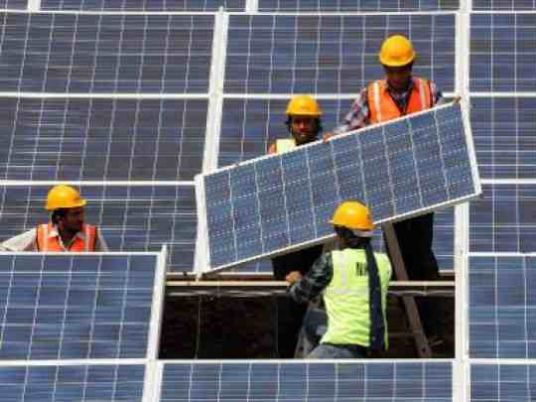 The Embassy of Switzerland held a press conference on Monday, presenting "Solar impulse II" a zero-fuel airplane powered mainly by solar energy, and its first flight around the world.
The press conference was organized in cooperation with Schindler, a leading global producer of elevators and escalators, and a technology pioneer for clean mobility; ABB, pioneering in technology innovation in renewables, sustainable transportation and energy efficiency and the Swiss-Egyptian Business Association (SEBA).
On March 9, the 2300 kg airplane has begun its 35,000 km journey in Abu Dhabi, and it has already stopped in Oman, India, Myanmar, and China. The airplane will fly across the US, after crossing the Pacific Ocean, stopping in three locations there before it flies across over the Atlantic and completes its journey with a stop-over in Southern Europe or North Africa.
Solar Impulse II was created by two Swiss pilots and adventurers Bertrand Piccard and André Borschberg. According to them, "the next pages in aviation history will be written with solar energy, and voyaing around the world with no fuel and pollution. We want to demonstrate the importance of pioneering spirit to encourage people to question what they've always taken for granted."
Speaking during the press conference, Markus Leitner, the Ambassador of Switzerland to Egypt said that Solar Impulse II is a revolutionary invention both with regard to the use of clean technology and to aviation, proving that clean technology, and solar energy in particular, can protect our environment.
"Solar Impulse II is a powerful example of Swiss innovation, an indication of what we can achieve when we believe it's impossible," he said. "I am proud and happy to showcase it in Egypt, which is a country with a unique potential for solar energy. I hope that Solar Impulse II will inspire reflections on sustainable energy usage, engineering, clean technology and investment in innovation."
Naji Jreijiri, ABB's Managing Director for Egypt, Central & North Africa said that ABB and Solar Impulse kicked off an innovation and technology alliance in 2014 because both have similar goals. "Solar Impulse really stands for an ideal that has become ABB's credo which is running the world without consuming," she said.
"We are very excited to be part of Solar impulse II," Engineer Walid Gad, Managing Director of Schindler Ltd. said, adding that his company wishes to use the potential of new technologies to make clean mobility a reality in the future.