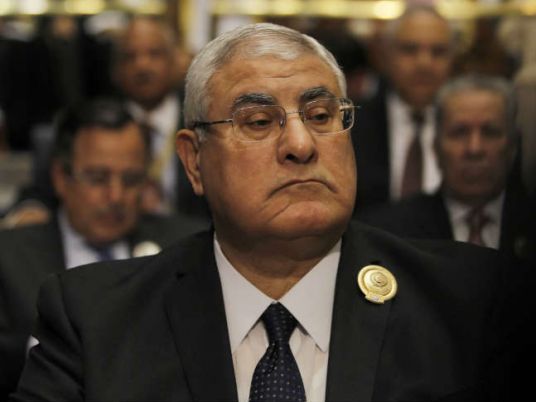 Judicial sources said that Adly Mansour, head of the Supreme Constitutional Court and former president of Egypt, would step down when the court considers the challenge of the protests law because it was he issued and ratified it when he was president.
The oldest member of the court would preside over the session that is slated for early next month.
The sources added that Mansour decided to return to the presidency of the court after the end of his term as interim president, and that he only asked for a short vacation to rest. He will reach pension age in two years.
Anyone is allowed to challenge the law before the Constitutional Court, hence the challenge submitted by lawyer Khaled Ali, which the State Commissioners would consider and return to the court in due time, a standard procedure for all challenges.
Hundreds of liberal activists who oppose a military-led government and others affiliated with the Muslim Brotherhood have been detained for breaking the law, which requires prior authorization from the Interior Ministry before staging a protest. The law imposes fines as well as prison sentences on whoever breaks it.
The protest law was heavily criticized by human rights groups and the international community, including the UN, the US and several European countries. The Egyptian government rejected the criticism as "clear intervention" in their internal affairs.
Edited translation from Al-Masry Al-Youm