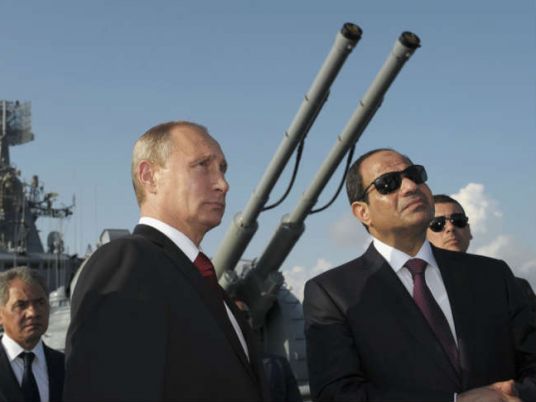 Russia's President Vladimir Putin will start a two-day official visit to Egypt on 9 February 2015 to boost the bilateral relations between Moscow and Cairo, state-run news agency MENA quoted sources in Moscow as saying.
During the visit, both countries are scheduled to discuss bilateral relations and regional issues, besides following up on agreements made with Egyptian President Abdel Fattah al-Sisi during his visit to Russia in August 2014.
In late 2014, Russia's foreign ministry said Putin was intending to visit Egypt early 2015, which was later confirmed by Putin's Middle East and Africa envoy, Mikhail Bogdanov.
Dmitry Medvedev was the last Russian president to visit Egypt in June 2009, when both states signed five agreements on mutual cooperation.
In a related context, Egypt is mulling a new system by which it would charge Russia for tourism services in rubles in return for wheat and liquefied natural gas imports.
Central Bank of Egypt (CBE) governor, Hesham Ramez, told economic daily newspaper Al-Mal that the proposed "barter" system was still subject to deliberation, adding that the exchange would not be "absolute" but rather confined to specific commodities.
Russia's central bank would be contacted if the new mechanism is approved, Ramez noted.
According to Tourism Minister Hesham Zaazou, the system trades Egyptian imports from Russia with tourism services through setting a fair rate for the Russian currency against the US dollar.
The Russian Ruble had lost more than 40 percent of its value against the dollar which stands at 63.705 rubles.
Egypt has sought closer trade and military cooperation with Russia since the ouster of former president Mohamed Morsy in 2013, many analaysts say as a way to subvert Western pressures to conform to international standards on human rights.
In December 2014, the Russian-Egyptian Business Council said it eyes an increase in commercial exchange between Egypt and Russia to US$10 billion, up from a current US$2-3 billion.
Edited translation from MENA