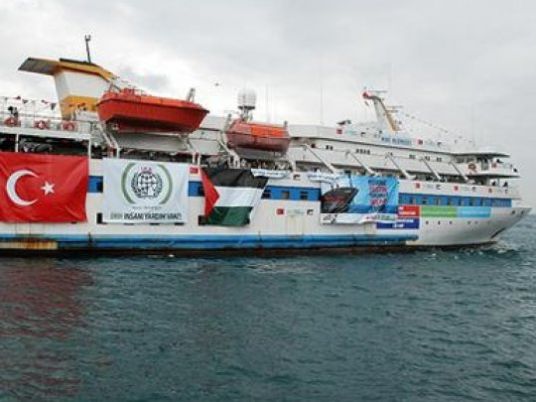 South African authorities have agreed to enforce a Turkish court's arrest warrants for four former senior Israeli military commanders accused of being involved in the deadly attack on Mavi Marmara aid flotilla in 2010, South African police and a lawyer have told Anadolu Agency.
Attorney Ziyaad Patel, who represents South African journalist Gadija Davids, a survivor of the deadly Israeli raid, said that South Africa's decision to enforce the warrants had set an important precedent for the utilization of the Rome Statute.
"The decision has massive implications as it is one of the first in our country's history where South African authorities have undertaken enforcement proceedings arising from codified principles of universal jurisdiction," Patel told Anadolu Agency Wednesday.
South African Police Services confirmed the development to Anadolu Agency. "Yes, we received the Turkish warrants sometime last week," South African Police spokesman Brigadier Hangwani Mulaudzi said via telephone.
The first "Gaza Freedom Flotilla" expedition in May 2010 ended in tragedy after Israeli commandos killed nine Turkish nationals and an American of Turkish origin in a raid on the flotilla ship, Mavi Marmara. Another person died in a Turkish hospital in 2014 after being in coma for almost four years.
In May 2014, Istanbul's Seventh High Criminal Court issued arrest warrants for four former Israeli military commanders involved in the attack, including then Chief of General Staff Rau Ashkenazi, Naval Forces Commander Eliezer Marom, Head of Air Force Intelligence Brigadier-General Avishay Levi and Israel Defense Forces' Military Intelligence chief Major-General Amos Yadlin. The case against the Israeli officials continues at a Turkish court, which has been postponed until next year.
In September this year, Turkish authorities forwarded the arrest warrants issued by the Istanbul court to their South African counterparts, who agreed to enforce the arrests if the four Israeli officials ever visited South Africa. South African authorities also circulated details of the wanted persons to all ports of entry in the country.
Davids, was travelling with a group of activists on the Mavi Marmara in 2010, when the vessel was attacked by Israeli troops. She was arrested, assaulted, interrogated and jailed in Israeli prisons during that period. When she returned to South Africa, she launched a formal complaint against the Israeli soldiers in 2011, with several government authorities. In 2012, she also testified at a court in Istanbul along with other victims in a trial led by the Humanitarian Relief Foundation (IHH), a Turkish nongovernmental organization which had organized the 2010 aid flotilla.
About the decision of South African authorities to enforce the arrests, Davids said that she felt happy that her country would now enforce the warrants. "We finally have justice," she said.
The noose around Israeli officials involved in the Mavi Marmara attack seems to be tightening with each passing day. This month, a Spanish judge instructed authorities in his country to immediately inform the court if senior Israeli officials, including Israeli Prime Minister Benjamin Netanyahu ever set foot in the country, hinting at the possibility that they could be arrested for their role in attacking the flotilla in 2010.
Apart from Israeli officials, the American president too has been blamed for the attacks. U.S. President Barack Obama is being sued at a federal court in Los Angeles by parents of Furkan Dogan a 19-year-old Turkish activist, who was among those killed on the Mavi Marmara vessel in 2010.
Israel has maintained a tight blockade of the Gaza Strip since 2007, when Palestinian group Hamas took over control of the territory. The second "Gaza Freedom Flotilla" in 2012 and the third flotilla in June this year too were turned back forcefully by Israel.