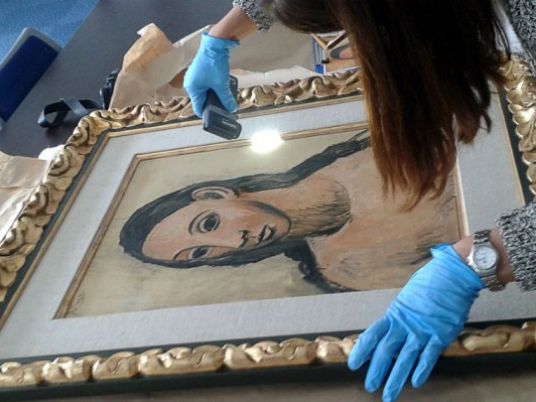 A Picasso painting belonging to one of Spain's wealthiest bankers and seized in France following an export ban was delivered to a Madrid museum on Tuesday, where it will be held until a dispute over its status is resolved.
"Head of a Young Woman", painted by the Malaga-born artist in 1906 and valued at more than 25 million euros (around $28 million), was impounded by French customs officials last month on board a yacht in the Corsican port of Calvi.
Deemed a national treasure by Spain, whose high court slapped an export ban on it, the picture has been the subject of legal wrangling for several months.
Both painting and vessel are owned by billionaire Jaime Botin, part of the family dynasty that ran Santander for several generations and brother of the bank's late chairman Emilio Botin.
Following an application by auctioneer Christie's, Jaime Botin tried to export the work to London but was blocked by the court in May, a ruling his law firm said he was contesting. A later attempt to move it from Corsica to Switzerland prompted French customs to seize it.
The painting will be held under judicial oversight in Madrid's main modern art museum, the Reina Sofia, until its status is clarified, the interior ministry said. It will not be on public display.
Members of Spain's military police traveled to Corsica on Tuesday to retrieve the painting, the ministry added. It said the painting had been valued at 26.2 million euros.
Spanish cultural authorities have argued the work is a rare example of how ancient Iberian art influenced Picasso, who painted it around the time he stayed in a small mountain village in the Pyrenees.
Botin's lawyer Rafael Mateu de Ros said in an emailed statement that the painting had been kept on a British-registered boat and should therefore not come under the jurisdiction of Spanish authorities.
"The painting was painted abroad, it was purchased abroad and it has always been kept overseas. There the painting cannot have been exported (from Spain), legally or illegally," he said.
Arguably the most famous artist of the 20th century, Pablo Picasso spent the bulk of his long life in France, dying there in 1973.