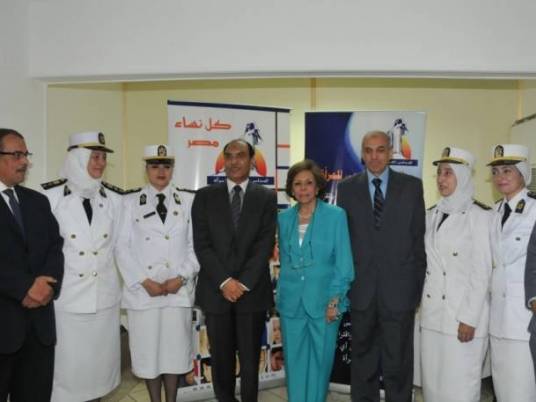 The head of Egypt's National Council for Women Mervat al-Tallawy met Wednesday with members of a new special unit of female police officers formed by the Interior Ministry to combat violence against women.
Tallawy praised the Interior Minister's decision to form such a special force during a meeting with the Interior Minister's Assistant for Human Rights Hussain Fikry, officials from the ministry's community outreach department, and four female officers from the force.
"This is a positive step towards addressing this growing phenomenon," she said. "We thank the ministry for responding to our request to form this unit."
Fikry said that the meeting would mark the beginning of close collaboration with the National Council for Women, adding that the ministry is reforming itself to better serve citizens.
He explained that each team of 10 qualified officers in the special unit would be concerned with cases of sexual harassment as well as all other forms of violence against women, and provide psychological support to the victims of such violence.
"We will issue a periodical bulletin to inform the public of our efforts," he said.
Sexual harassment and violence against women has been highlighted in the Egyptian media recently, particularly after a series of brutal sexual assaults on female protesters and activists during protests sparked by the second anniversary of the January 25 Revolution.
The National Council for Women had repeatedly called on all state institutions to work towards ending violations against women's rights, and had specifically requested that the Interior Ministry take action against the perpetrators of violence against women.
Edited translation from Al-Masry Al-Youm