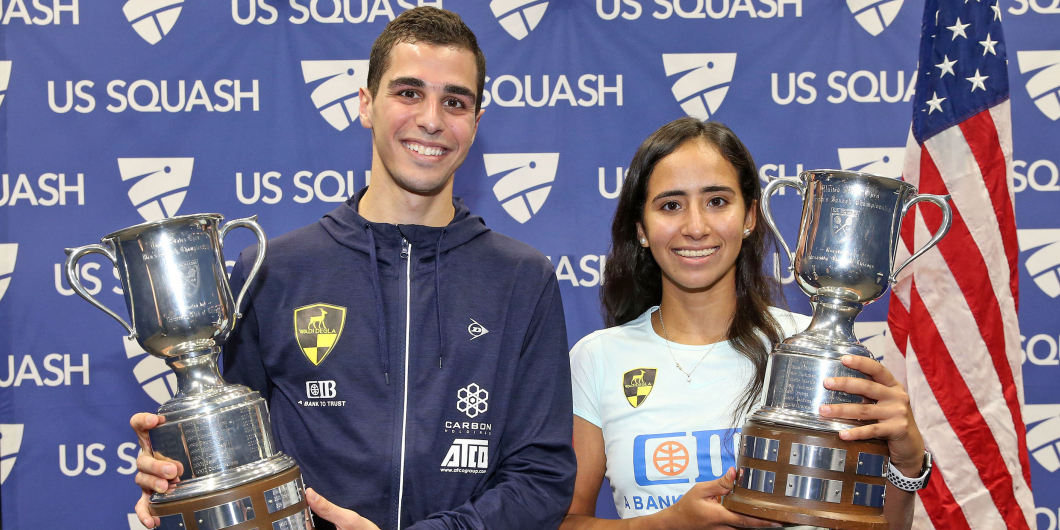 The International Association of Squash Professionals (IAAF) announced the world rankings for December, which showed Egypt's squash champions Raneem al-Welily and Ali Farag continue to dominate.
In the December's men list, Farag was followed by Mohamed Shorbagy, Karim Abdel Gawad and Tarek Momen, while in December's women list, Nour al-Sherbini, Nouran Gohar and Nour al-Tayeb came after Welily.
World number one Farag claimed the 2019 FS Investments US Open Squash Championships title, defeating fellow player Shorbagy in October 2019.
Farag was in brilliant form forcing Shorbagy, who won the JP Morgan China Open and Oracle NetSuite Open in September, to lose 3-0. Farag also recorded a 75.4 percent win ratio after winning 221 out of 293 total matches played and reaching 33 finals, according to the PSA World Tour.
Thriving in his 10-year squash career, Farag is having a tremendous year so far, hitting the world number one spot for the first time after winning the Oracle NetSuite, the Qatar Classic and the Tournament of Champions, reaching six finals during the seven tournaments he participated in this year.
He also triumphed in the UK's DPD open and the El Gouna International Squash Open over the past few months. Knocking out previous world number one Shorbagy, Farag successfully made it to the US open, seizing the prestigious title during the 2017-2018 season, according to PSA World Tour.
Farag launched his career by snatching the prestigious maiden PSA M25 title. The Egyptian champ also lifted three titles out of the four tournaments in which he took part, wrapping up the year with an astonishing victory in the Irish open, one of the world's most famous squash tournaments.
Farag also managed to conquer global squash icons in 2016, including ElShorbagy and three-time World Champion Nick Matthew, capturing the esteemed PSA M70 title, the PSA World Tour stated.
Raneem al-Welily won the 2019 Oracle NetSuite Open trophies in San Francisco, October 2019. Welily lifted the trophy after defeating her contestant Nour al-Tayeb, with scores of 11-5, 11-5, 11-5 in each game.
Winning 355 out of 503 total played matches, Welily records a 70.6 win percentage according to the PSA World Tour. The Egyptian champ crowned her 2017-2018 season with a number of outstanding awards, including at the El Gouna International Squash Open, the US open and the China open.
Her latest accomplishments have brought her back to the top spot in the PSA World Rankings.
She was officially named world champion in Manchester in 2017, her PSA profile mentioned.
Welily's golden year was 2015. There she achieved distinct recognition, including the PSA Women's Player of the Year, as well as being the first player in more than nine years to oust the prior number one spot holder Nicol David, topping the PSA World Rankings.