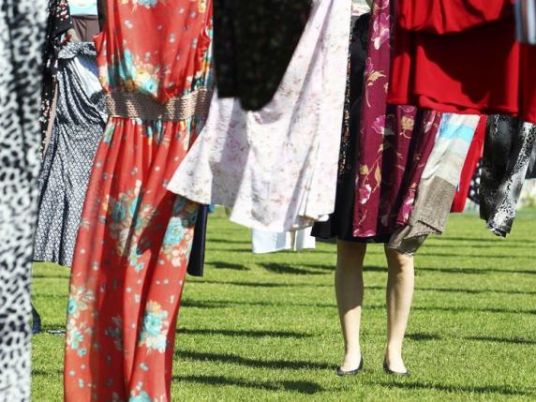 Dresses and skirts donated by Cherie Blair and Rita Ora were among 5,000 pegged to washing lines in a Kosovo stadium on Friday in an art installation drawing attention to the stigma suffered by victims of wartime sexual violence.
While there are no precise figures of the number of women and girls raped or subjected to sexual violence during Kosovo's 1998-99 war, non-governmental organizations say it may run to the thousands.
Many have kept silent about what Serbian forces and paramilitaries did to them, while some of those who have spoken out have faced being ostracized by Kosovo's conservative and mainly Muslim Albanian society.
"They received the blame and the shame," said Alketa Xhafa-Mripa, the 34-year-old Kosovo-born, London-based artist behind the exhibition, called 'Thinking of You'.
"I was lucky to be in London during the war and I always thought this could have happened to me as it happened to these women," she told Reuters.
Dresses and skirts of all different colors blew in the wind under bright blue skies in Kosovo's main soccer stadium, usually the domain of male sports fans. They were collected from all over the country of 1.8 million people.
Atifete Jahjaga, Kosovo's first female president, gave one of her own dresses, as did Kosovo-born British pop star Rita Ora and Cherie Blair, whose husband Tony was British prime minister when NATO intervened to drive out Serbian forces accused of massacring and expelling ethnic Albanian civilians.
Kosovo, once a province of Serbia, declared independence in 2008 and has been recognized by more than 100 states worldwide.
On one blue skirt was written: "This skirt carries a hidden story from spring 1998. Dardani, Peje," referring to the names of a district and town.
Kadire Tahiraj, who runs a non-governmental organization helping victims of sexual violence, said nine woman in the Gllogoc area where she works had committed suicide after being raped.
"A lot of raped women were later divorced by their husbands," Tahiraj said.
"I spoke with a woman who was pregnant when she was raped and lost the baby. Her husband later divorced her."
Criticized for its failure to act on the issue, lawmakers in Kosovo last year adopted a law to provide welfare support for rape victims, but the government has yet to define how much.