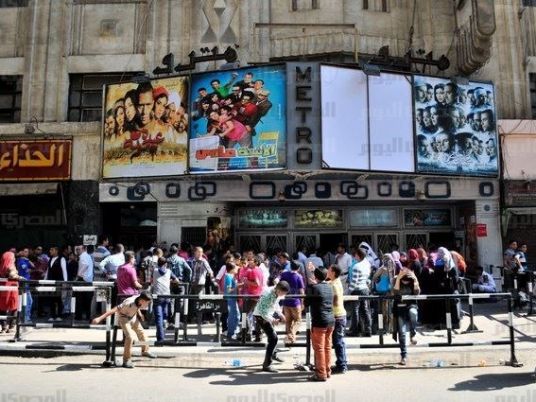 Although the current film year has seen a strong roster since its start, with seven movies during the months of January and February, production companies were disappointed with the low revenues, despite the majority of the films being applauded by critics.
Low box office sales will clearly affect the upcoming summer season, as production companies are discouraged about producing more movies.
Most companies are considering the postponment of new films until the Eid period.
Twelve new movies are slated to be shown, most of them already prepared for the screen, but only three will be shown this summer. It has been several years since only three movies out of 12 were screened during the summer.
This upcoming summer season is now in an extraordinary position, as the month of Ramadan will be in the middle of the season (end of June), and will undoubtedly result in weak sales, forcing filmmakers to look for alternative periods to screen their movies.
"Captain Misr", starring Mohamed Adel Emam, Edward, Ahmed Fatehy and Bayoumy Fouad will be displayed in April, considered the beginning of the summer season. The movie is directed by Motaz al-Touny and is based on Omar Taher's novel bearing the same title. It is a comedy about a football player who faces problems that leads to his imprisonment.
The second movie that will be screened this summer
is "Zan'et Settat", starring Hassan al-Raddad, Emy Samir Ghanem, Mai Selim and Ayten Amer. It is about a man who has multiple relationships with women and is forced to marry four women who then turn his life upside down.
The last movie scheduled for this summer is "Abl Agazet al-Seif" (Before the Summer Vacation), starring Hana Shiha, Maged al-Kedwany, Ahmed Dawoud and Ghada Shahbandar. The movie is directed by Mohamed Khan. The story is about a woman who is facing a midlife crisis and decides to live in isolation on the North Coast.
Movies slated for later in the year include "al-Khalbous", starring Mohamed Ragab and Eman Assi, "Sokkar Morr", starring Haitham Ahmed Zaki, Ahmed al-Fishawy, Ayten Amer, and Sherry Adel, "Qodorat Ghair Adeya" (Unusual Powers), starring Khaled Aboul Naha, Nagla Badr, and Mahmoud al-Gendy, "Welad Rez", starring Ahmed Ezz and Ahmed al-Fishawy, "Hayaty Mbahdela", starring Mohamed Saad and Nicole Saba, and "Elleila al-Kebira", starring Zeina, Ayten Amer, Mohamed Lotfy and Somaya al-Khashab.
"Welad Rez": and "Hayaty Mbahdela" will be in cinemas during Eid al-Fitr.
Other movies, such as "Alb Eswed" (Black Heart), "al-Qareen", "Zan", "Men Dahr Ragel", "Yom Lel Settat", and "al-King" are on hold until screening dates can be secured.
Edited translation from Al-Masry Al-Youm