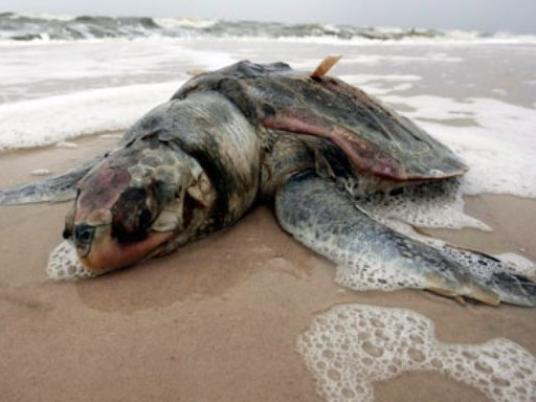 Head of the Environmental Affairs Agency Mohamed Shehab said that four turtles were released back into their natural habitat in the past two days after they were unlawfully taken, and that legal action will be taken against the violators who hunted them, in cooperation with the concerned authorities.
Shehab said in a press statement on Thursday that the operations room of the Environment Ministry had received a report on the presence of a large loggerhead turtle at a fish shop in Mansoura.
Following this, a committee from the Environment Police headed to the site where the turtle was based and confiscated the turtle before later returning it back to the waters of the Mediterranean Sea.
Shehab added that in another instance, the Alexandria operations Room also received a notification from the head of the Turtles and Marine Life Rescue Team, on the presence of two Green Turtles located in a fish store in Damietta. He said that in response, a rapid intervention team confiscated the two turtles before re-launching them into seawater in Port Said Governorate.
He further explained that in the same context and in cooperation with the Environment Department of the tourist villages located in Egypt's North Coast, a large turtle was confiscated after it was found with a fisherman at the Marina al-Alamein Center, emphasizing that it too was confiscated and re-launched into the water again.
Each year, sea turtles start to approach beaches in preparation for laying eggs, this begins annually by the end of May and goes on until mid-September.