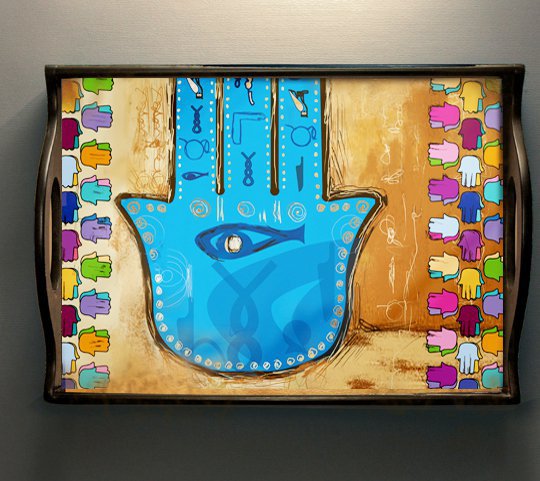 Last Saturday, a team from the online boutique Style Treasure celebrated Mother's Day at Sofitel Cairo El Gezira Hotel with a festive bazaar, offering a number of ideas for presents in all price ranges.
Despite the vast space and numerous exhibitors, however, items were rather similar and innovation seemed scarce.
For example, several exhibitors had oversized, flowy jersey tops and that were unfortunately overpriced. The only designer that stood out was Amina K, but the young designer was late setting up her booth, and again her merchandise was pricey.
Similarly, the jewelry designers had little new to offer. Items seemed pretty much alike from booth to booth. Sadly, skulls, peace signs and hands of Fatima still seem to dominate the accessories scene.
Home accessories were a particular attraction for visitors. Joud's Mother's Day collection is simple and beautiful. Several designs were on display, and the range of matching trays, bed tables, coaster, mugs and cushions covered most budgets.
Plexi & More was next with a convenient and innovative collection of trays, serving plates, jewelry, makeup and cutlery boxes. The trays are definitely a good present — a big tray would cost LE400, while a medium-sized one would cost LE360.
Turath came forward with its usual collection of colored glasses with silver cuffs. Its signature piece this year is a carved silver plates stand with six small tea glasses on top of it. The item costs LE680.
My favorite piece was Lara's Crafts' colored copper tray with Mahmoud Darwish's seminal poetry, reading, "I long for my mother's bread, my mother's coffee and my mother's touch." The tray costs LE230.
If your mother loves writing, Scribble offers a wide range of notebooks and agendas, as well as a to-do list notebook and a recipe book. The stationery items are colorful with creative designs, and offered at affordable prices — between LE29 and LE45.
One of the best, and most underrated, exhibitors was Helcometals, whose booth was a feast for the eye. Their wide range of cutlery, trays, serving plates, glasses and cups was stunning.
Prices range between LE200 for a small tray, all the way to LE880 for a two-tier, silver-plated cookie server. The Royal collection is simply exquisite.
All items can be viewed at www.style-treasure.com.
This piece was originally published in Egypt Independent's weekly print edition.