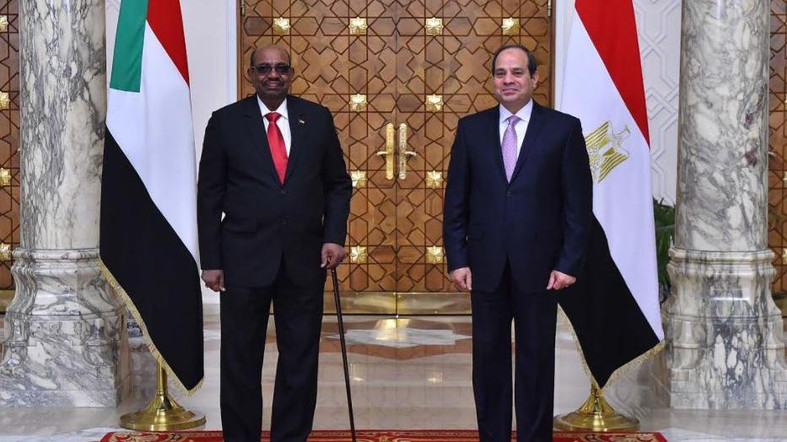 Sudan's President Omar al-Bashir met his Egyptian counterpart Abdel Fattah al-Sisi in Cairo Monday where they vowed to cooperate in managing the effects of the Grand Ethiopian Renaissance Dam (GERD), which Egypt is concerned might affect its share of Nile water.
"We have affirmed our determination to work together, together with our brothers in Ethiopia, to reach a partnership in the Nile River that will benefit all without harming any party," Sisi said during a joint press conference with Bashir on Monday at the Itihadiyya Palace.
Tensions between the countries have risen in recent months, after Sudan seemed to be leaning towards Ethiopia's side in the negotiations over the dam, despite Egypt repeatedly stressed its reservations about the dam plans. Ethiopia, however, said it would continue with the dam construction, claiming it is much-needed development for the majority of African countries.
Sisi also announced joint efforts to enhance cooperation between Egypt and Sudan in various fields, including transport and infrastructure projects, which will be activated through a number of bodies and committees.
"We also affirmed the intention of the two countries to continue to enhance cooperation in the fields of energy, electrical interconnection, land, air and sea transport, infrastructure projects and benefit from the advisory and executive experts in both countries," Sisi added.
Following the stalled negotiations between Egypt and Sudan, relations between the two African countries soured.
Sudan recalled its ambassador to Cairo on January 5 following news reports in Ethiopia claiming that Egypt was seeking to exclude Sudan from the tripartite negotiations over the impacts of the GERD.
Another source of tensions between Egypt and Sudan has the dispute over the Halayeb and Shalateen region. Sudan accuses Egypt of occupying the territory, while Egypt says it is rightfully under its sovereignty.
During Monday's meeting, Bashir and Sisi vowed to explore opportunities by forming various joint committees, including a special committee for trade promotion, a high joint technical authority for Nile water committee, a military committee, a border crossings committee, and a committee for political consultations at the level of the Ministers of Foreign Affairs.
"These joint committees are systematically implemented in a way that ensures dual benefits,"Sisi added.
Bashir said during the presser that he will soon be reviewing the mechanisms of the joint committees proposed by Sisi.
"We have no choice but to cooperate," he said.
Tariq Radwan, Chairman of the Parliament's Foreign Affairs Committee, said that the visit gives a strong signal that the two countries have a desire to overcome their differences, and thanks to their brotherly relations, those differences have started to fade.