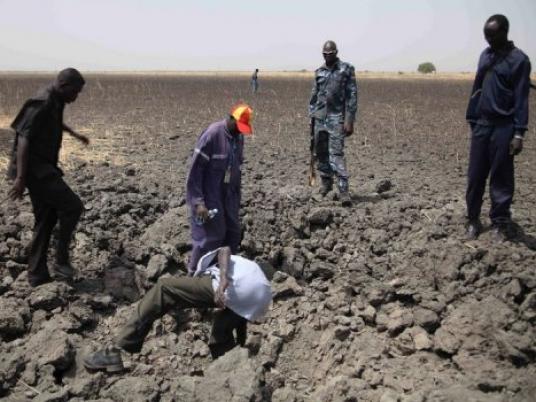 Sudan shelled a disputed border town seized by South Sudan, a southern military official said Monday, as clashes spread near the border separating the two nations.
Two Sudanese warplanes dropped "many bombs" Monday on the oil-rich city of Heglig, as long-range artillery targeted southern army positions in the disputed town, said southern army spokesman Col. Philip Aguer. He did not give a casualty figure. He also said Monday that Sudan's air force killed five civilians in aerial attacks Sunday over Heglig.
Aguer also said that the town of Bentiu in South Sudan's Unity State was hit and that the conflict has spread to several southern states bordering Sudan, including Western Bahr el Ghazal.
He said the rival armies had not yet engaged in physical fighting this week.
"Today they bombed our positions in Heglig and the oil installations in Heglig," he said Monday. "We are waiting for them in the killing zone and they are not coming."
But he said the north's army is now 23 kilometers (some 14 miles) from Heglig, which is claimed by Sudan but was seized last week by South Sudanese forces in fierce fighting that southern officials say killed at least 240 Sudanese soldiers and 19 South Sudanese troops.
"We know that Sudanese troops are advancing toward Heglig," he said.
Sudanese officials also claimed Monday to have seized an area sympathetic to South Sudan.
Aguer said the clashes are a "terrible escalation" of the border conflict that stretches back before South Sudan broke away from Sudan last year.
Fighting along the north-south border has been near constant over the past two weeks.
The Sudan Media Center also reported Monday that Sudan's army took control of Mugum, a stronghold of the southern army in Blue Nile state, which is near South Sudan's border.
The government news service quoted an "informed" source of the command of the 4th Division as saying the division raided Mugum on Sunday, killed 25 rebels and seized a large quantity of weapons and equipment.
Fighting erupted in the disputed region of Abyei in May of last year, just months before South Sudan formally declared independence.
Rabie Abdelaty, a spokesman for the Khartoum government, ruled out peace talks with the south, saying it would hurt national pride if Sudan did not take back Heglig by force. Sudan earlier this month pulled out of scheduled talks.
"Our people are angry," he said Monday. "This is not a time for diplomacy. This is a time for pushing them and letting them know that they are irresponsible."
He added: "This is war. Our forces want to teach them a lesson."
Some analysts believe the current round of hostilities will take its full course before the north and the south can consider coming to the negotiating table, if at all.
"It's not a senseless war," said Angelo Izama, a political analyst who runs a Kampala-based think tank on regional security. "There's unfinished business on both sides. There cannot be a diplomatic solution to the current hostilities."