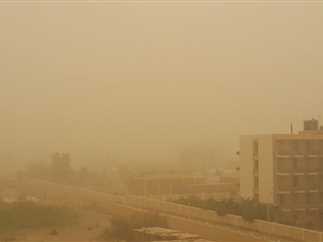 The Egyptian Meteorological Authority anticipates a sudden drop in weather temperatures from Saturday to mid-June, following a heat-wave on Thursday and Friday.
Temperatures are expected to drop by five degrees so that the maximum temperature in Cairo will record 34C, compared to 42C in the south of the country.
The Meteorologist Authority said that the spring season is known for its sharp and rapid climate fluctuations, especially the last half of the spring where desert depressions affect weather.
The main feature in the spring season is the formation of surface depressions, which raises dusty winds, the center of which is the Western Desert.
The decrease in the atmospheric pressure as well during this period leads to a rise in temperature.
Hot weather is expected in Greater Cairo, Lower Egypt and northern Upper Egypt, moderately hot weather on the northern coasts and very hot weather in South Sinai and southern Upper Egypt.
Moderate temperatures are predicted at night in all parts.
On Saturday and Sunday, active winds are expected on areas of the northeastern coast, South Sinai and the south of the country, at intermittent intervals.
And on Wednesday and Thursday, active dusty winds are expected in areas of the northern coasts, the Western Desert, central Sinai and southern Upper Egypt, at intermittent periods.
Maximum temperatures predicted on Saturday:
Northern coasts 27C

Greater Cairo and Lower Egypt 34C

Northern Upper Egypt 35C

South Sinai 38C

Southern Upper Egypt 42C
Maximum temperatures predicted on Sunday:
Northern coasts 28C

Greater Cairo and Lower Egypt 33C

South Sinai 36C

Northern Upper Egypt 35C

Southern Upper Egypt 39C
Maximum temperatures predicted on Monday:
Northern coasts 27C

Greater Cairo and Lower Egypt 35C




Northern Upper Egypt, South Sinai 36C

Southern Upper Egypt 40C
Maximum temperatures predicted on Tuesday:
Northern coasts 27C

Greater Cairo and Lower Egypt 35C

South Sinai, Northern Upper Egypt 36C

Southern Upper Egypt 40C
Maximum temperatures predicted on Wednesday:
Northern coasts 27C

Greater Cairo and Lower Egypt 35C

South Sinai, Northern Upper Egypt 36C

Southern Upper Egypt 40C
Maximum temperatures predicted on Thursday:
Northern coasts 27C

Greater Cairo and Lower Egypt 35C

South Sinai, Northern Upper Egypt 36C

Southern Upper Egypt 40C
Edited translation from Al-Masry Al-Youm