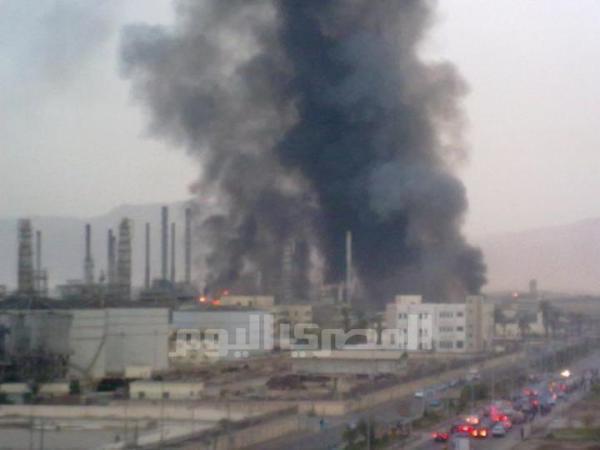 A huge fire that erupted Saturday at an oil refinery in Suez has been controlled, said Lieutenant Captain Khaled Bahgat, who heads emergency services in the governorate.
Bahgat said four officers and six soldiers suffered from difficulty breathing while extinguishing the fires.
The blaze burned at the Nasr Petroleum Company refinery for 18 hours and left one dead and 24 injured, Suez Governor Mohamed Hashem said, adding that each worker will receive LE50,000 in compensation.
An official at the company told Al-Masry Al-Youm that initial losses are estimated at nearly LE12 million.
Suez security chief Adel Refaat on Sunday said prosecution services have ordered the formation of a panel of petroleum engineering professors to prepare a report on the blaze. Refaat said fires at four oil containers have been extinguished, and that efforts continue to put out fires at the remaining two.
Despite admitting that the Suez refinery accounts for 10 percent of local production, the Petroleum Ministry has said that the market supply of diesel oil will not be affected by the blaze.
Petroleum Minister Abdullah Ghorab denied that any explosions took place at the oil reservoirs in the region. He said a technical team has been tasked with investigating the cause of the fire.
Hany Dahy, director of the General Petroleum Corporation, said in statements quoted by state-run news agency MENA that the incident will not leave a negative impact on the petroleum market. He explained that the fuel produced in the Suez refinery is used for aircrafts and is meant for exporting rather than local distribution.
Amr Mostafa, the corporation's operations director, said the Nasr refinery produces 2,000 tons of diesel oil, adding that the amounts of crude oil have been redirected to Cairo labs to make sure the market is not negatively impacted.
Translated from Al-Masry Al-Youm