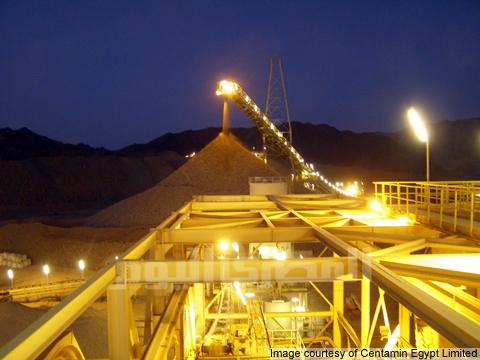 The Administrative Court on Tuesday postponed to 22 May the consideration of a lawsuit filed by MP Hamdy al-Fakhrany demanding the dissolution of the deal made between the Egyptian state and Centamin Egypt, an Australian mineral exploration and mining company that has been managing the Sukari Gold Mine since 2007.
The Sukari mine, Egypt's largest and oldest, has seen numerous acts of labor unrest amid allegations of corruption, smuggling and other controversies.
Located in the southeast of the country some 30 km away from the Red Sea city of Marsa Alam, this massive gold-mining project has been rocked by numerous labor protests since the 25 January Revolution — including work-stoppages, slow-down strikes, hunger strikes and demonstrations, along with the obstruction of roads leading to and from the mine.
The court postponed the case in anticipation of receiving additional documents as well as the report prepared by the fact-finding commission which inspected the mine.
Fakhrany told the court that, "Egypt's shares from the mine did not exceed US$14.4 million whereas the mine is the third biggest mine in the world and makes profits amounting to billions of Egyptian pounds."
He said that Australian workers at the mine receive a monthly salary of US$20,000 whereas the Egyptian workers receive only LE1,600. He added that when Egypt wishes to buy the gold extracted from the mine, it must do so in hard currency and that the company has the right to transfer all of its profits abroad, which drains Egypt's foreign currency reserves.
Fakhrany went on to say that there is no monitoring over the mine by the Egyptian government because the government representatives that are supposed to be present during the gold pouring process and the documentation of the mines' activities are summoned by the company, and in the case that they are not summoned, no one is present.
Fakhrany filed the lawsuit in October against the prime minister, the petroleum minister, the industry minister, the chairman of the Egyptian General Authority for Mineral Resources, the governor of Central Bank of Egypt and the chairman of the board of directors of Centamin Egypt.
According to the lawsuit, the deal signed in 2004 is extremely unfair to the Egyptian people.
According to the lawsuit, the unjust terms give both the foreign partner and Egypt the right to 50 percent of the mine's net production, which represents a grave injustice to Egyptians.
Edited Translation from Al-Masry Al-Youm