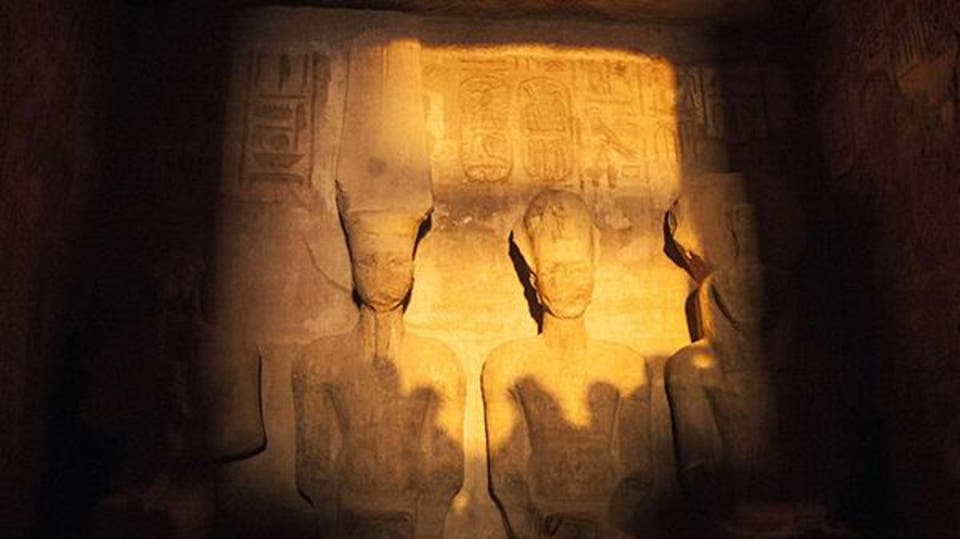 The sun illuminated King Ramses II's face in Aswan's Abu Simbel temple on Tuesday, a phenomenon that occurs twice a year, marking key dates in the pharaoh's life. The first alignment took place this year on February 22, marking his coronation, and the second on October 22, marking his birthday.
General Director of Antiquities in Aswan and Nouba Abdel Moneam Saed said that 4,500 tourists celebrated the alignment, which started at 5:49 am and continued for 20 minutes.
Chief Inspector of Abu Simbel Antiquities Ahmed Masoud clarified that the temple opened the doors for tourists starting at 3 am to facilitate viewings of the sun alignment, asserting that thousands of tourists lined up in the "longest tourist queue" in Egypt before entering the temple.
Eight folk art troupes of the General Authority for Cultural Palaces from Aswan, Toshka, Port Said, Mahalla, Mallawi, Qena, Shalatin, and New Valley presented their performances in the Temple Square amid an audience of thousands of attendees.
Sunlight likewise illuminated the statues sitting next to Ramses II of the sun gods Re-Horakhte and Amon-Re on February 22 and October 22. The statues sit in the company of the Theban god of darkness, Ptah, who remains in the shadows all year.
Edited translation from Al-Masry Al-Youm