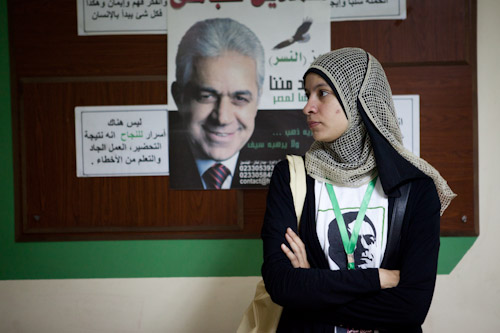 Most of the papers today report on one of various conflicting opinion polls on the presidential election, due to start Wednesday.
Independent newspaper Al-Shorouk conducted its own poll. Former Muslim Brotherhood member Abdel Moneim Abouel Fotouh and former Arab League chief Amr Moussa lead, followed by ex-Prime Minister Ahmed Shafiq and Nasserist candidate Hamdeen Sabbahi, while Muslim Brotherhood candidate Mohamed Morsy comes last. The newspaper predicts that 91 percent of eligible voters will vote, and that Moussa will come first, followed by Abouel Fotouh and then Sabbahi.
But privately owned Al-Dostour writes that, according to a government poll conducted by the Cabinet's information center, Shafiq seems to be in the lead with Moussa second by a small margin, followed by Abouel Fotouh, Morsy and then Sabbahi. It says that 84 percent of the eligible population will vote, 7 percent will abstain and 9 percent are still undecided.
A poll carried out by state-run Al-Ahram between 14 and 17 May, meanwhile, apparently shows Moussa, Shafiq and Morsy winning, and Abouel Fotouh's ratings dropping.
As for what citizens feel will be the most important challenges facing the next president, in Al-Shorouk's poll, national security comes first with a strong 33.5 percent of votes, followed by the economic crisis and then education.
Al-Ahram leads with an article on the "strict measures to prevent any forgery during the electoral process": a judge for each ballot box and a rule by which women wearing face veils must show their faces in order to vote. According to Al-Dostour, niqab-wearing women are known for voting more than once.
Al-Dostour continues its campaign against the Brotherhood by leading with the headline "A complete crime." It says that Brotherhood supporters are offering LE200 and a box of groceries in return for citizens' identification cards. The collected cards would apparently be returned after the election.
On its front page, Al-Shorouk writes that yesterday Shafiq supporters raided the Journalists Syndicate during a press conference held to discuss irregularities during his time as civil aviation minister. The group tried to attack Mohamed Abdel Qoddous, a renowned journalist and a Brotherhood member.
Al-Ahram interviews political analyst Mohamed Hassanein Heikal, who says that the next president will need a miracle and that no candidate has a clear or complete vision of the situation or the capabilities to manage it.
"I admire these men for their courage and their drive, but they all need a miracle," he says.
According to the veteran writer, what is happening in Egypt is normal, but all the figures who tried to manage the transitional phase failed and Islamists mistakenly thought they were the center of the revolution while in fact they were only a part of it. Heikal argues that the young people who ignited the revolution went back to their normal lives after changing the face of the society. He says that Egypt's current situation is similar to that of the Titanic — but that Egypt will not sink.
Egypt's papers:
Al-Ahram: Daily, state-run, largest distribution in Egypt
Al-Akhbar: Daily, state-run, second to Al-Ahram in institutional size
Al-Gomhurriya: Daily, state-run
Rose al-Youssef: Daily, state-run
Al-Dostour: Daily, privately owned
Al-Shorouk: Daily, privately owned
Al-Watan: Daily, privately owned
Al-Wafd: Daily, published by the liberal Wafd Party
Youm7: Daily, privately owned
Al-Tahrir: Daily, privately owned
Freedom and Justice: Daily, published by the Muslim Brotherhood's Freedom and Justice Party
Sawt al-Umma: Weekly, privately owned
Al-Arabi: Weekly, published by the Nasserist Party
Al-Nour: Official paper of the Salafi Nour Party