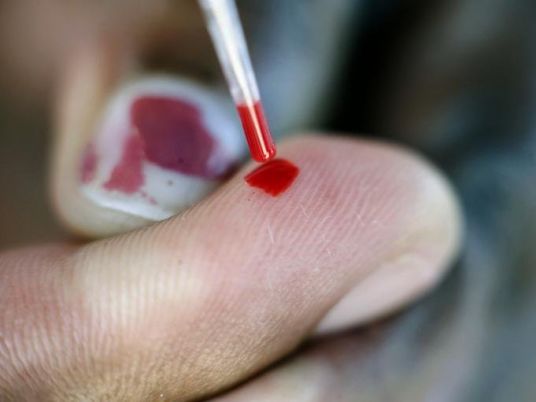 Dr. Anthony Fauci doesn't get too excited about the results of animal studies, and he doesn't make house calls.
But when a drug already taken by thousands of people for intestinal conditions appeared to control the monkey version of HIV, it got the attention of the director of the National Institutes of Allergy and Infectious Diseases.
Fauci hopped on a plane to Cambridge, Massachusetts, to personally tell Japan's Takeda Pharmaceutical Co's US representatives that their drug may offer a dramatic advance in the fight against AIDS.
Takeda's drug suppressed the virus to undetectable levels in eight monkeys, some for two years. The finding raises hope for a so-called "functional cure" – a treatment that puts the disease in a sustained remission.
"The data was so dramatic," said Fauci, who has made AIDS research his life's work. The drug is one of several promising ideas heading into early-stage human trials, all seeking to help patients control the virus that causes AIDS for extended periods without daily antiretroviral therapy (ART).
The studies build on research propelled by the case of Timothy Ray Brown, the so-called "Berlin patient," whose HIV was eradicated through an elaborate stem cell transplant in 2007.
"There has been this explosion of discovery," said Mitchell Warren, executive director of the AIDS Vaccine Advocacy Coalition. "There are completely new ideas that were impossible to conceive even a few years ago."
Limits of current drugs
HIV once meant certain death. But, for more than half of the 36.7 million HIV patients around the world, ART transformed it into a chronic disease.
Taken daily, ART suppresses the virus. But keeping up a daily medication regimen is difficult. The drugs are expensive and toxic, causing nausea, fatigue and nerve problems in the short-term, and insulin resistance and other problems over time.
Only about a third of U.S. patients take ART consistently enough to push the virus down to undetectable levels.
"We're going to need other approaches," said Dr. Nelson Michael, director of the US Military HIV Research Program at the Walter Reed Army Institute.
Much work has focused on the discovery of rare antibodies made by HIV patients that can neutralize several different forms of the virus.
One trial involving an antibody called PGT121 licensed by Gilead Sciences Inc reduced the virus to undetectable levels in 16 of 18 monkeys; the effect lasted for four months in three of them.
At Walter Reed, Michael is taking a different tack, testing whether a vaccine – being developed to prevent HIV infection – can fight off the virus in infected individuals.
Last month, Michael and researchers at Harvard's Beth Israel Deaconess Medical Center published the results of a monkey test of Johnson & Johnson's HIV vaccine candidate called Ad26/MVA and Gilead's experimental drug GS-986.
On its own, the vaccine had a modest effect. But it was even more effective when it was given with GS-986, a so-called TLR-7 agonist that "kicks the immune system up to a higher gear," Michael said. All nine monkeys that got both treatments showed significantly reduced viral loads. In three, the combination therapy has kept the virus at bay for at least six months.
Human trials could begin within months, said Dr. Paul Stoffels, J&J's chief scientific officer. "If the cure is there, the industry will find a way to get there very quickly," Stoffels said.
"It was like: 'Wow!' "
Fauci's visit was a first for Takeda, a company focused on treatments for cancer, gastroenterology and the central nervous system, said Dr. Michael Shetzline, who heads clinical science for Takeda in Cambridge.
"The excitement was just clear," Shetzline said. "It was like: 'Wow!' " Takeda does not study HIV. But its researchers understood the basic science surrounding its drug Entyvio, an antibody engineered to attack a specific protein.
The drug, known generically as vedolizumab, is approved in more than 50 countries for ulcerative colitis and Crohn's disease, which occur when the immune system attacks the intestines.
"Entyvio is a cell trafficking molecule that affects immune responses," Shetzline said. "In this instance, the GI tract is what is harboring this HIV cell population that needs to be cleared – at least that is what the monkey study implies."
Takeda is providing the drug and supporting the study. Shetzline cautioned that it's only a pilot.
"We'd love to see this benefit patients," he said. If it pans out, cost could be an issue. Entyvio is priced as a biologic, similar to other IBD treatments, which range from US$2,000 to US$5,000 a month, according to Consumer Reports.
Entyvio's HIV trial began in August and seeks to enroll 15 to 25 people with stable disease. They will remain on daily ART drugs while taking nine infusions of Entyvio over a period of several months. Then, ART will be stopped, they will get two more infusions, and doctors will watch to see if the virus rebounds – or remains suppressed.
Manni Baez, 30, of Columbus, Ohio, travels to the National Institutes of Health in Bethesda, Maryland, about once a month for the study. "For me, the end game is providing the folks at the National Institutes of Health (NIH) with the resources they need to get them closer to finding a cure or a vaccine for this plague," Baez said.
Fauci said he doesn't expect meaningful results until late 2017 or early 2018. But even partial success would be huge, he said. "If we discontinue therapy in the 15, and four of them don't rebound," he said, then "that is the best anybody has ever seen."
Fauci said he doesn't get emotional about the data he collects, and, in any event, it's early days for this research. "I try to be as objective as I possibly can," he said. "I will get really excited if we get our first seven people in human (trial), and I stop ART – and they don't rebound."