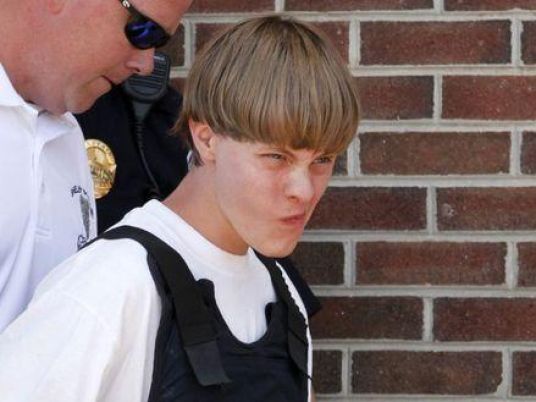 The suspected gunman in the slaying of nine people at a historic black church in Charleston last month is expected in court on Thursday when a judge will hear a media challenge to a ban on the release of documents in the case.
Dylann Roof, 21, was arrested a day after the killings and charged with nine counts of murder in what authorities say was a racially motivated massacre.
The South Carolina Press Association is challenging a decision by Ninth Circuit Judge J.C. Nicholson last week to issue a gag order on potential trial participants as well as banning the release of documents in the case, including 911 police dispatch calls, coroner's reports and witness statements.
Nicholson said he issued the order "due to substantial pre-trial publicity" that could jeopardize Roof's right to a fair trial.
The press association argues the public has a right to know about the case and that the judge's order is too broad.
Thursday will be Roof's first appearance in court since a magistrate's bond hearing June 19, in which he appeared by video standing in a nearby holding room and victims' family members expressed their grief and forgiveness of him.
Indictments will be issued at the hearing, a court official said, but it is not known whether Roof will enter a plea on Thursday.
A grand jury indicted Roof on nine murder charges in the June 17 killings of Bible study members at Charleston's Emanuel African Methodist Episcopal church including its pastor, the Rev. Clementa Pinckney, also a state senator.
Roof was also indicted on three counts of attempted murder and the use of a firearm during the violent crime of murder. He also faces possible federal hate crime charges.
After the murders a website linked to Roof surfaced containing a racist manifesto and showing him in photos posing with Confederate flags, a banner from the American Civil War widely considered a symbol of slavery.
South Carolina Governor Nikki Haley and national leaders called for the flag to be removed from the state capitol grounds in Columbia where it had flown for more than 50 years.
After several days of lengthy legislative debate the flag was lowered on Friday before a cheering crowd of thousands and taken to a museum.