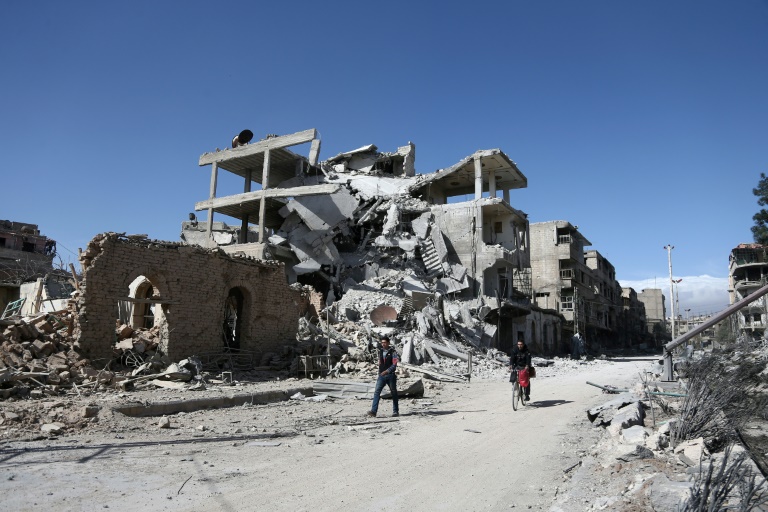 Syrian regime forces on Saturday cut off the largest town in Eastern Ghouta from the rest of the opposition enclave in a blow to rebels defending their last bastion near Damascus.
Government troops and allied militia have recaptured half of the besieged region in a blistering assault launched on February 18 that has prompted global outcry.
They have pursued a divide-and-conquer strategy, eating away at rebel-held towns and successfully isolating Ghouta's main town of Douma on Saturday.
Regime fighters seized control of the road linking Douma with the town of Harasta further west, and also captured the town of Misraba, according to the Syrian Observatory for Human Rights.
"Regime forces have therefore divided Eastern Ghouta into three parts — Douma and its surroundings, Harasta in the west, and the rest of the towns further south," the Britain-based monitor said.
Ghouta, under government siege since 2013, is the last remaining opposition-controlled zone on the outskirts of the capital.
Keen to secure Damascus, government troops launched a fierce bombing campaign on February 18 and then began a ground operation.
Rebels in recent days tried to slow the advance with an attempted counter-offensive but were struggling to hold off President Bashar al-Assad's forces.
Syrian state television on Saturday reported that the army had "intensified its operations… and was advancing in three main zones."
– Douma residents trapped –
An AFP correspondent inside Douma said shelling and air strikes were rocking the town on Saturday, trapping residents indoors.
Rescue workers and medics were struggling to navigate the town's rubble-littered roads to bring wounded residents back to field clinics.
Douma is the main bastion of Jaish al-Islam, one of two main Islamist factions present in Eastern Ghouta.
Residents fleeing the government's advance in other towns had sought refuge in Douma.
The offensive has killed more than 975 civilians, including more than 200 children, and wounded several thousand people, according to the Observatory.
Eastern Ghouta is home to around 400,000 people, in desperate need of humanitarian assistance after the five-year siege made food and medical aid exceedingly rare.
On Friday, a joint aid convoy of the International Committee of the Red Cross, the United Nations and the Syrian Arab Red Crescent delivered food aid to hunger-stricken residents.
The delivery had been due to enter on Thursday but was delayed due to developments on the ground.
It was the second aid operation in a week that was disrupted by military operations, after deliveries on Monday were cut short due to bombardment.
– Clashes raging –
In addition to clashes around Douma, fighting on Saturday raged to the west near the town of Medeira and further south near Hammuriyeh, Saqba, and Efteris.
Those towns were the main strongholds of Ghouta's second Islamist group, Faylaq al-Rahman.
Jihadists from Hayat Tahrir al-Sham — once linked to Al-Qaeda's Syria branch — also have a presence in the enclave.
On Friday, 13 HTS members and their family members were bussed out of the enclave through the Wafideen checkpoint.
Jaish al-Islam said the jihadists would be evacuated to the northern province of Idlib, in an arrangement struck following consultations with the United Nations and other international players.
Such evacuation deals have been repeatedly agreed in Syria's seven-year war, most notably in the second city of Aleppo in late 2016.
After a ferocious month-long government assault, thousands of rebel fighters and civilians were bussed out of the city's east.
That paved the way for Syria's government to announce the full recapture of Aleppo — the largest blow to date to the fractured opposition movement.
Syria's conflict erupted in 2011 with protests against Assad but has since developed into a full-blown war that has drawn in global powers.
Russia has intervened on behalf of Syria's government, while Turkey has backed rebels against Assad, rival jihadists, and Kurdish forces.
On Saturday, Ankara-backed rebels advanced against the Kurdish People's Protection Units (YPG) in the enclave of Afrin in northwestern Syria.
Turkey considers the YPG a "terror" group and launched a joint cross-border operation against them on January 20.
Turkish forces and allied opposition factions have since captured more than 60 percent of the Afrin region from the YPG.
After fresh advances, they advanced on Saturday to within four kilometres (2.5 miles) of the central town of Afrin, according to the Observatory.