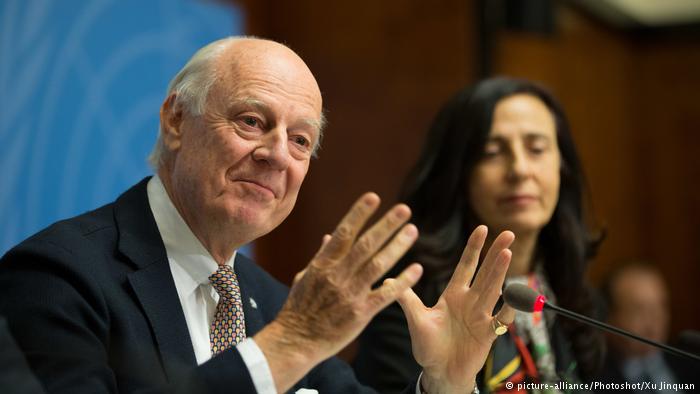 A political solution to Syria's conflict may require "new ideas" to move peace talks forward, the UN's top mediator said. For seven years the conflict has shown no sign of ending despite several attempts at peace.
Staffan de Mistura, the UN's Special Envoy for Syria, on Thursday said the latest round of peace talks aimed at advancing a political solution to the Syrian conflict was a "missed golden opportunity."
"I did not see the (Syrian) government really looking to find a way to have a dialogue and negotiate during this round," de Mistura said. He described Syrian government envoys as unwilling to meet opposition representatives face-to-face, which forced all communication from both sides to take place in separate meetings with UN officials.
"I will probably need to come up with new ideas, parameters, about how to move the talks forward, particularly on constitution and elections," Mistura added.
The eighth and latest round of peace talks ended in Geneva with little more than hope for a new round in January. Despite a series of attempts by the UN to mediate the peace process, little has been achieved between the Syrian government and an opposition alliance backed by Saudi Arabia and Western nations since the war erupted in 2011.
'Convince' Assad
De Mistura's remarks come a day after he urged Russian President Vladimir Putin to "convince" Syrian President Bashar Assad's government to accept a political solution or risk the "fragmentation of Syria."
Bashar Ja'afari, the Syrian government's chief negotiator, criticized de Mistura's comments about Putin, saying it undermined the prospect of advancing peace talks.
"His statement undermined his mandate as a facilitator of the talks, which will affect the entire Geneva process," Ja'afari told reporters on Thursday.
Russia has been pushing separate peace talks outside the UN framework.
Ja'afari also said his side would not talk directly with the opposition until it drops its demand for Assad to step down.
'No other solution'
But de Mistura remained optimistic that a political solution could only be secured through a UN-brokered process.
"We will never give up because there is simply no other solution than real negotiations with no preconditions, a clear political process and UN-supervised election," de Mistura said.
More than 320,000 people have been killed since the conflict erupted in 2011, when government forces launched a brutal crackdown on peaceful protesters calling for the release of political prisoners and Assad to step down.
Since then, the conflict has transformed into a multi-front war involving global powers, regional alliances and non-state actors, including Russia, the United States and the "Islamic State" militant group.