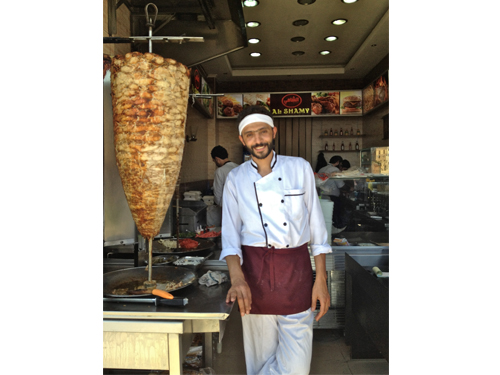 At first glance, Al-Shami Shawerma could be just another Egyptianized Syrian sandwich shop catering to the lunch rush around Hosary Square in the 6th of October settlement in Giza. But the Syrian dialect of this new restaurant's owner, Nader Abu Waseem, tells a different story.
Three months ago, Abu Waseem fled the fighting in Damascus and came to Cairo seeking safety for himself, his wife and his 16-year-old daughter. In Damascus, Abu Waseem had owned a restaurant and a perfume shop in the city's famous Souq Hamadeya.
Now, he lives in 6th of October and his Damascus house has been reduced to rubble. He is one of an estimated 100,000 Syrian refugees who have fled to Egypt since March 2011.
Shami represents just one of the ways in which Syrians are trying to survive in Cairo amid the rise in violence and uncertainty back home. This takeout restaurant opened two months ago and is one of a handful of new Shami, or Levantine, restaurants that Syrian refugees have started around Cairo, many in 6th of October.
Competing with Egyptian fast-food staples in the area such as Gad and Mo'men, the new Syrian shops in Hosary provide an important source of income for their owners and employees, who say they would otherwise struggle to find work to support themselves and their families.
Many of the restaurants have their own specialty — one is known for its shawerma, another for fresh hummus, a third for its oven-baked mana'ish. Together, they recreate the familiar smells and tastes of a Syria now at war.
Midday one Monday in early February, Abu Waseem sits at Al-Shami's front counter, busy taking orders as he smokes a cigarette. Most of his customers are not Syrian, he explains, but Egyptians working in the area or students at the university nearby.
He is thankful to have the restaurant but does not think too much about its future. He has no plans to stay permanently in Egypt and hopes to return to Syria as soon as he thinks it is safe enough.
Working the shawerma pit that afternoon clad in the restaurant's white uniform, Abu Khady has a wide smile. He eagerly reports that his wife gave birth 10 days ago. But his eyes darken as he recalls how he left Damascus seven months ago after two missiles hit his house and he knew he could no longer stay. He still keeps photos of his home on his phone.
Back in Syria, Abu Khady also used to work at a restaurant. Now, with quick hands, he layers a thick sauce on a piece of wide and thin Syrian-style pita, carefully cuts slices of shawerma from the roasting pit and wraps the meat into the awaiting bread.
He then dips the wrap in the sauce accumulated below the roasting shwerma and passes the sandwich on to a second worker, who toasts it on a hot skillet to add the final touch.
Below the shawerma pit sit unopened bags of the baguette-style bread popular at Egyptian shawerma places. At Al-Shami Shawarma, pita is the preferred bread.
Many Syrians have reported choosing to come to Egypt because conditions are said to be less problematic than in other neighboring countries. But in Egypt, countless daily struggles — big and small — signal their displaced status.
Such is the case when a middle-aged Egyptian man approaches the counter and orders two shawerma.
"And what's that?" he asks, pointing to one of the pre-made side dishes behind a glass counter.
"Kibbeh," Abu Waseem says, using the Syrian name for the ground beef ball dish on a platter, next to a row of cheese and meat sambusak.
"What?" the man asks.
"Kobeba," the owner repeats, this time a little louder, with a slight change of vowels to fit the Egyptian pronunciation.
"Oh," the customer responds with a laugh. "I'll take two."
One street over, Al-Gnany restaurant also serves fresh cuisine with Syrian flair. This restaurant opened four months ago and is farther back from the main road, with a large area in front providing a seating and service area shared by several shops.
The restaurant offers toasted shawerma and other pressed sandwiches, but its main attraction is its fresh dips and hummus-based dishes, such as falafel — rather than Egyptian taamiya — and the popular fatteh hummus that comes in a large bowl, topped with parsley and pomegranate seeds. Another specialty is Al-Gnany's fresh Syrian fuul, which, unlike its Egyptian counterpart, is made from larger fava beans that are kept whole and usually simmered overnight with tahina and other spices.
Inside the still-shiny restaurant is a wall lined with jars of spicy shata sauce and pickled vegetables, spiced following a Syrian recipe, also for sale. As the restaurant's slogan says, the restaurant follows "the experience of grandparents inherited by their children and grandchildren."
Mohamed Radwan Saab spoons a ladle of fuul into a large take-away plastic bag and explains that he arrived from Damascus with his immediate family five months ago to escape the escalating violence. He did not know his co-workers before, who are all young men too, but, like the others, he chose to work here because it provided him with a job. Another employee, Abu Heda, says many of his friends now work in this restaurant, as well as several others in the area.
"We are all working together," he explains.
A right turn out of Al-Gnany leads to another restaurant, called Al-Bayt al-Soury, or the Syrian House. About five men work in this small shop, which consists mainly of a large oven for baking goods.
The restaurant specializes in fresh mana'ish, a circular thick dough commonly topped with zataar, haloumi cheese, labna, meat or muhamarra (spicy tomatoes and ground walnuts), and barak, triangular dough pies stuffed with combinations of cheese, spinach or meat. An array of other baked dishes, including pizza, are also be made to order.
Abu Tahseen, Al-Bayt al-Soury's owner, opened the shop about two months ago. He lives in 6th of October with his two children. His wife, he explains, was killed in Syria.
"I opened this restaurant because of my children," he says.
Like the others in the shop, he also has no intention of staying permanently
A few doors over sits Abu Ali al-Shami restaurant. It calls itself "The King of Shawerma" and has been serving Syrian-style food in these parts for some 10 years. The restaurant is larger than its nearby competitors and is owned and staffed mainly by Egyptians.
One Syrian, among seven or so Egyptians, was working the afternoon shift that day.
An employee at the counter explains that Abu Ali is not worried about competition from the new restaurants.
"We are the biggest," he says, "and we've been here the longest. So we are well-known."
And, he adds, it is always good to have more Syrian food around.
This piece was originally published in Egypt Independent's weekly print edition.