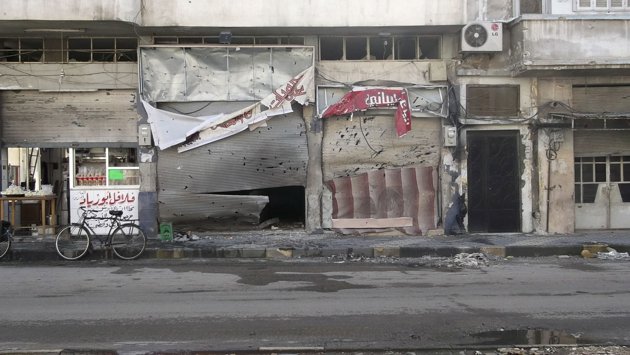 Abu Ali says he has only God to thank today for sparing his life and that of his wife and five kids as they fled the government blitz on the flashpoint Syrian city of Homs at the weekend.
"God spared us because we had children with us in the car," Abu Ali told AFP, recalling his flight under heavy shelling and sniper fire from the Karm al-Zeytoun district of Homs, located near the opposition stronghold of Baba Amr.
"Leaving the area was extremely difficult, and some of the people who fled just before us were shot and killed in their car," he added.
"As we were leaving, we saw a burned out car with a charred body inside. There were also torn down buildings, destruction everywhere."
Abu Ali was among a number of residents from Homs interviewed Tuesday in the Syrian border village of Jussiyeh, where they are living in dire conditions, relying on handouts to survive.
Abu Ahmed, a member of the rebel Free Syrian Army (FSA), told AFP there are some 800 displaced families from Homs who have sought refuge in recent months in Jussiyeh, which is located just across from Lebanon's eastern Bekaa region.
The border in that area is not clearly delineated with only small mounds of earth in some places marking the separation between the two countries.
Abu Ahmed, who did not wish for his real name to be used, said there are an additional 4,000 displaced families from Homs now living in the Bouwayda region located some 15 kilometers (nine miles) from the border.
He said the Free Syrian Army made up of defectors and sympathisers was assisting the families as much as possible, distributing bread and other aid.
"We are living like beggars now," lamented Abu Ali, as his children milled about outside a barren single room shack lent to him by a local family.
The only furniture inside were torn rugs and foam mattresses on the floor.
Abu Abdullah, a farmer who fled the town of Qusayr, in Homs province, with his wife and four children, said his only belongings today were the clothes on his back.
"I was already a very poor man and today I have to rely on handouts from the local population in Jussiyeh and the FSA," he said.
The 43-year-old said he would like to cross the border into Lebanon but didn't have any relatives or friends there.
Other displaced Syrians said they were scared of fleeing to Lebanon because of reports they could be arrested by the Lebanese army.
The UN refugee agency said Tuesday that some 2,000 Syrians have sought refuge in Lebanon in recent days, many of them from Homs, and particularly its opposition stronghold of Baba Amr, which was stormed by Syrian troops last Thursday after a month of bombardment.
Qusayr, 15 kilometers from Homs, has also been attacked.
Jaafar, 27, a farmer, said he fled Qusayr after the situation there became too dangerous and his father was wounded by sniper fire.
"I left on my own because we lacked everything including food and fuel," he told AFP. "The army is raiding homes and arresting people indiscriminately.
"I am afraid they are going to storm the town. Half of the residents have fled."