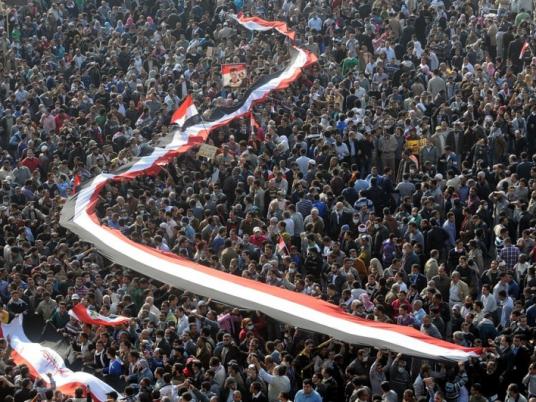 From aerial views of the thousands standing shoulder-to-shoulder in Tahrir Square and the hazy, tear gas-filled streets, it would seem Cairo has devolved into chaos. The panicked tweets and images ― many gruesome and violent ― broadcast earlier this week by international and local media are undeniably real, but they don't reflect the less emotionally charged story of what's happening in the rest of the city.
Unlike Egypt's 25 January revolution, in which protests spread to nearly every district of the capital and looting and vandalism took place, the Cairo protests have been confined to Tahrir and a few surrounding downtown side streets, where security forces volleyed tear gas in exchange for rocks from demonstrators.
Despite the many parallels being drawn to this week's unrest and the mass protests that brought down President Hosni Mubarak in February, several key differences are contributing to the containment of this conflict.
"They [protesters] don't want to antagonize the lifestyle of the rest of the population, but the most important fact is they want to show up for a mass rally in a place that's safe because it's self-protected from attacks," said Ashraf al-Sherif, a political science lecturer at the American University (AUC) in Cairo.
When protests erupted throughout the country in January, Tahrir had not yet become the local and international symbol of freedom and civil rights, or even the popular social destination, that it is now.
"At that time Tahrir was not really that iconic and people were fighting their own battles with police in popular neighborhoods, unlike now when protests are concentrated in main squares in the cities and life is kind of normal outside of that," Sherif said.
In January, authorities' efforts to close the square and cut mobile phone and internet services forced activists to amass supporters elsewhere to march on downtown.
"Egyptians, if they are allowed to reach the square, will not want to go anywhere else … in the last few days, 35 people died but still we stay here," said 20-year-old Mohamed Ramadan, an Al-Azhar University business student who gathered with his friends in the square Thursday night. "Here I can express my opinion more than any other place."
Many seem content to keep their fight within the square for the time being.
"If there are any objections or demands, people meet up at the place that's the symbol of the revolution," said Coptic protester Inas Fawzy, who anticipated protests will mushroom to other areas if parliamentary elections go forward as planned on Monday.
Amal Sharaf, a co-founder of the April 6 Youth Movement, said her group has planned some of the marches currently converging on Tahrir from nearby mosques to honor the revolution's martyrs and victims of the recent fighting.
But rather than highlight their cause in other areas of the capital, marchers from April 6 and other groups are expected to remain in the square for the rest of the day.
Since Saturday afternoon when security forces sparked renewed fervor by violently forcing a small group from the square, Sharaf said the focus has been on Tahrir because people see it as a catalyst for change and a place for felling leaders.
"I was so depressed the past few weeks because people didn't go to Tahrir and I was hoping that they would come back and start protesting for the demands of the revolution again," she said. "I thought they were just staying home and starting to lose interest in the revolution … at last people woke up and I'm very optimistic."
The Supreme Council of the Armed Forces' announcement Friday that Mubarak-era Prime Minister Kamal al-Ganzouri will lead a new cabinet did nothing to assuage the anger in the square on "Last Chance Friday." And many are skeptical the tenuous peace imposed early Thursday morning between police and demonstrators will hold.
Tensions and rallies are likely to escalate even further over the next few days as military rulers fail to satisfy the Tahrir demands ― namely that they step aside, according to AUC lecturer Sherif. Protests and renewed clashes could spread throughout the city ahead of or during the scheduled vote, he said.
"In the coming few days before the elections I think the crisis will intensify," he said. "It's not the scale of the protests ― it doesn't really matter if there are only 30,000 or 40,000 people in Tahrir, that's enough to cause a problem ― it's the lack of solutions."