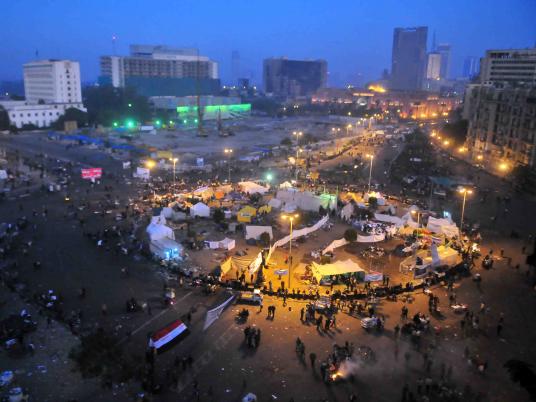 With only a few hundred protesters continuing the Tahrir Square sit-in, confrontations involving sticks and knives take place daily between those who want to open it up to traffic and those who are fighting against the move, believing that it would jeopardize both the sit-in and their personal safety.
On Monday night, dozens of protesters came from the middle of the square with sticks and removed the barricades blocking traffic from Qasr al-Ainy Street. As the cars started going into the square, the protesters cheered and chanted, "The real revolutionaries are opening the square."
"We can take up a small space by the Mogamma [government building] to voice our opinion, but we don't want to get in the way of people's interests," says Ibrahim Kabbo, a 26-year-old protester.
However, another group of protesters blocked cars before they could reach the square, forcing them to turn back, then replaced the barricades to block traffic once more.
"If the square is opened, the revolution will be over," screamed Hadeer Abdel Aziz, a member of a self-appointed Tahrir Awareness Committee. "We need this place to be our medium for letting the people who are being misled by the media know the truth about Tahrir Square," she added.
As she was passionately explaining her perspective, a man came over to Abdel Aziz, assuring her that he had "beat the hell out of" the guy that was helping "the traitors" open up the square to traffic.
"The military and the police will never attack the square. They are fighting us with these people. We want to open up the square to traffic but we're outnumbered," says Hesham Mohamed, a factory worker, following Monday's failed attempt. Mohamed's statement echoes concerns that those using force to maintain the barricades have been deployed by the authorities to tarnish the image of the sit-in.
Several well-established activist groups have already withdrawn from the sit-in, leaving the few hundred protesters who remain with no clear affiliations, despite their common demand that the military council hand over executive power to a civilian transitional body.
The sit-in, now in its 17th day, started with a protest on Friday, 18 November against the supra-constitutional principles document proposed by Deputy Prime Minister Ali al-Selmy. The next day, violence broke out as security forces attempted to end the sit-in, and thousands took to the square to support those under attack. Several days of violent clashes between protesters and security forces followed, leaving 43 dead.
After the violence ended on 23 November, the number of protesters in Tahrir Square gradually decreased, aided by the start of parliamentary elections, and many protesters relocated their sit-in to the nearby cabinet building to prevent further violence.