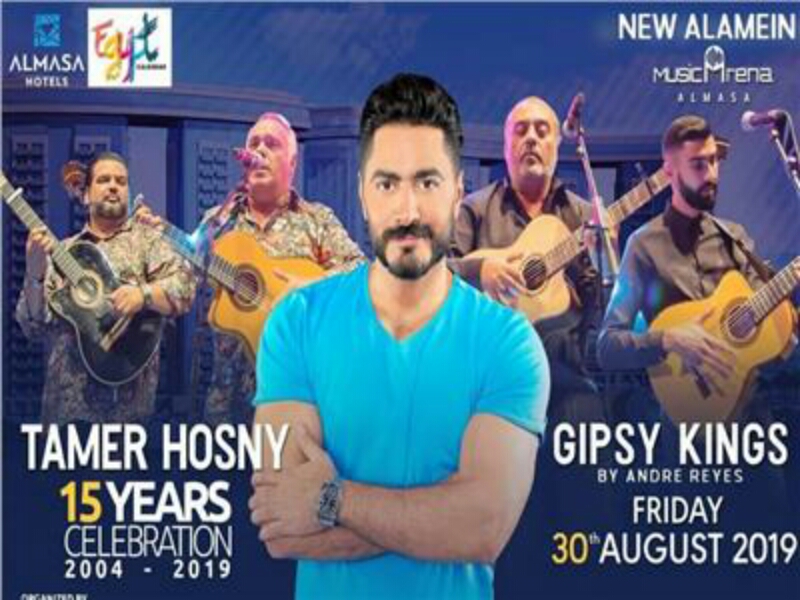 Egyptian Singer Tamer Hosny will perform on August 30 the closing concert of the 2019 summer event at the Music Arena of New Alamein city amid celebrations for the 15th anniversary of his first album "Hob".
Hosny will perform several old and recent romantic songs as well as a new song with the flamenco team the Gipsy Kings.
He welcomed his selection to commemorate the closing concert, which will be covered by several international media outlets.
Hosny represented Egypt in the Opening Ceremony of the Special Olympics World Games 2019 in Abu Dhabi, where he performed the opening anthem alongside Canadian pop star Avril Lavigne and Puerto Rican "Despacito" hit-maker Luis Fonsi in March at the Zayed Sports City Stadium.
Hosny began his acting career with "Halet Hob" (Love Case), a film released in 2003. He is also known for numerous other movies, including the "Omar & Salma" movie of three installments with Mai Ezzeldin and "El Badla" (The Suit) with Amina Khalil, which exceeded LE50 million revenues, in addition to more films.
He has received many awards, including Best Arab Artist at Murex D'Or in 2014 and 2016 as well as Best Arab Artist at the Middle East Music Awards in 2015.
Hosny's latest video clip "Naseny Laih" reached almost 20 million views on his official YouTube channel in less than two weeks and was at the top of the "most trending videos" list on YouTube within two days.
Edited translation from Al-Masry Al-Youm