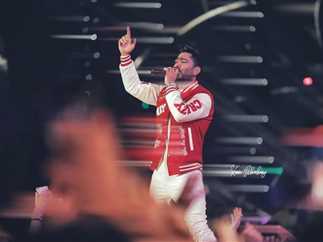 Singer Tamer Hosny gave a Sunday concert at the Misr University, attended by thousands of students, where he used hologram technology for the first time on a 70-meter stage.
During the grand event, Hosny presented a diverse selection of his most famous songs, including "Kol Marra Bashofk Fiha" (Every time I see you), "Kefayak Aazar" (Enough of excuses), "Aktar Haga Bahebaha Fiki" (What I Love Most About you) and songs from his famous movie "Omar and Salma".
The audience interacted with Hosny and his band throughout the hybrid concert that combined music, singing and interactive shows over more than two continuous hours.
Hosny, who has been dubbed the "Star of the Generation," launched his career in the early 2000s as an actor, singer, director, and song writer. His first album was released in 2002 and received the award for Best Selling Album that same year from the Nile Variety channel.
The star's acting career began with "Halet Hob" (Love's Case; 2003). He is known for numerous other movies, including the three-part "Omar & Salma" franchise starring actress Mai Ezz Eldin and "El Badla" (The Suit) starring Amina Khalil, which exceeding LE50 million revenues.
Hosny's foot and hand prints have been engraved at Hollywood's iconic Chinese Theatre in Los Angeles since 2017.