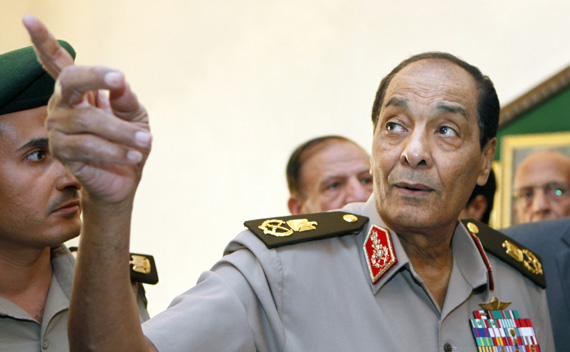 Rumors that Former Minister of Defense Field Marshal Tantawi is sick are false, a military source close to Tantawi said, adding that he is leading a normal life.
The source, who was a member of the Supreme Council of the Armed Forces, said Tantawi wished President Mohamed Morsy good luck in serving the nation on Eid al-Fitr.
Morsy also phoned Tantawi after rumors circulated that he had been sick and transported to the hospital.
The source said Morsy listens to Tantawi's advice on the developments in Egypt and the ongoing military operation in Sinai.
Tantawi spent Eid with his children and grandchildren, the source said, adding that he takes some medication for some diseases related to aging.
The source said Tantawi is an experienced man with a strong personality and would not be negatively affected by Morsy's decision to force him into retirement.
The source also said Tantawi believes that Egypt needed the 25 January revolution to eliminate oppression and corruption that were rampant under the rule of ex-President Hosni Mubarak.
He added that Tantawi tells his relatives and friends that he and his colleagues backed the revolution and that if the revolution had not succeeded, they would have suffered a great deal, particularly after asking Mubarak to step down after the revolution began.
Edited translation from Al-Masry Al-Youm