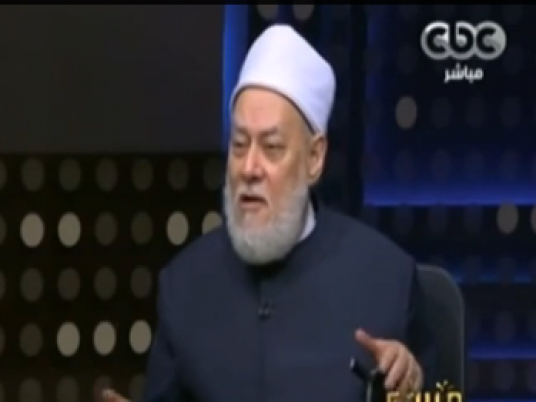 Giza security services launched raids on Sunday targeting eight locations in the areas of Kerdasa, Nahya, al-Haram and 6th of October City, to arrest criminals involved in the attempted assassination of former grand Mufti Ali Gomaa earlier this month.
Investigations identified more than 1,200 potential suspects, 10 of whom were arrested in Sunday's raids. Security services discovered that the suspects, believed to be members of the banned Muslim Brotherhood organization, had been involved in various criminal activities since the Brotherhood were toppled from power in 2013, including the burning of police vehicles, illegal protests and being in possession of firearms.
A security source said that all 10 arrested suspects denied being involved in the attempted assassination of Gomaa, but reported that one suspect had revealed information about three apartments in the district of Maryiottiya used for plotting terrorist crimes.
On the basis of this information, the source revealed, a team of investigators and explosives workers were led to the apartments by the informed suspect.
The apartments were searched and found to be abandoned. No explosives or weapons were found.
The attack on the former grand mufti occurred at noon on Friday, August 5, as Gomaa left his home in 6th of October City, leaving one bodyguard in hospital with a gunshot wound to the foot and a bystander injured.
Eyewitness Mamdouh Saad told Al-Masry Al-Youm after the attack that four masked gunmen had parked their car near Gomaa's villa and waited for him to go out for Friday prayers. Three of the gunmen shot at Gomaa as he reached the villa's front garden, while the fourth held a camera to record the incident.
Gomaa's bodyguards exchanged fire with the attackers, who escaped in the car, according to the eyewitness. The former grand mufti was able to enter the mosque safely for Friday prayers.
According to the security source, the terrorist cell that attempted Gomaa's assassination is allegedly the same one that carried out an attack on a security checkpoint the Giza district of Nahya earlier this month, when eight persons, including three conscripts, were injured.
Edited translation from Al-Masry Al-Youm