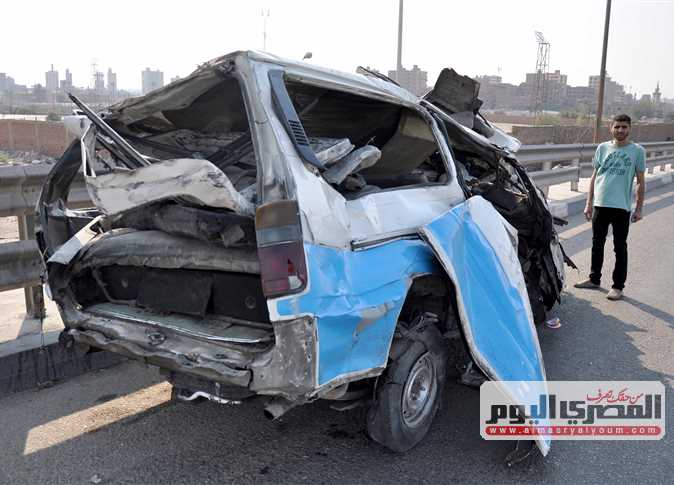 Thirteen people were killed and one person injured in Egypt on Thursday, in a collision involving a microbus and two trucks on the Aswan-Cairo western desert road.
Aswan's ambulance facility received notification of the crash and immediately dispatched 14 ambulances to the scene of the accident to transfer those killed in the accident to the morgue and the injured to Aswan University Hospital.
Those injured in the collision suffered from fractures, a concussion, and sporadic bruising, among other less serious injuries.
An official claim was filed about the accident and prosecutors were notified for further investigation, with a technical committee formed to determine the cause of the accident.
Road accidents, especially those involving microbuses, are not uncommon in Egypt, due to various factors, like poor road conditions, dangerous driving, and human carelessness. Just two days ago, six people were killed in a collision involving a bus and a private car west of Aswan.
In January, five people were killed and 15 others were injured in a collision involving a microbus and two private vehicles on the Sohag-Red Sea desert road.
Also that month, 17 people were injured and four people were killed in a microbus crash near Egypt's 15th of May City. The bus was carrying 14 female graduates from Minya University's Faculty of Medicine on their way from Minya to Cairo to attend a last-minute, mandatory training program in the capital.
The tragedy sparked outrage on social media and accusations that the women had been threatened by university officials with dismissal from their current medical departments if they failed to attend the training program.
The controversy also prompted Egypt's Supreme Medical Syndicate to transfer the supervising doctors responsible to an investigative committee, announcing as well that it would file a suit against Egypt's Ministry of Health calling for fair compensation for the victims of the crash and their families.
Early January also saw three people killed and another seven injured after a speeding lorry collided with a microbus picking up passengers in front of Cairo University's Faculty of Agriculture.
In November, six people died and another ten were injured when a microbus flipped over on the Eastern Desert Road in Beni Suef governorate, and in December, twenty-year-old Ahmed Hesham Abdel Alem was killed by a speeding car while directing traffic on the New Mansoura International Road, near the site of an earlier microbus rollover accident that injured nine people.
Edited translation from Al-Masry Al-Youm