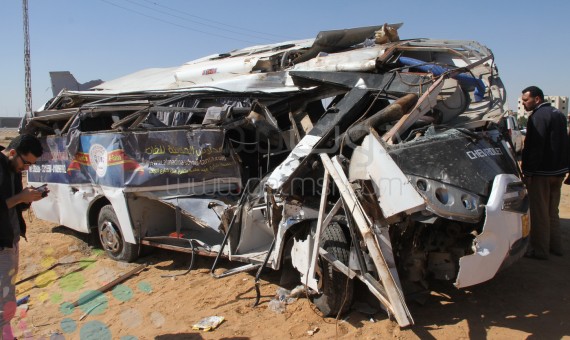 Minister of Health and Population Khaled Megahed said on Sunday that 20 people were injured in an accident between a Microbus and private car on the Ring Road at the entrance of al-Katameya Ain al-Sokhna Road.
Spokesperson of Health Ministry Ahmed Megahed said that the ministry transported the injured to al-Bank al-Ahly Hospital via 11 ambulance cars.
At around the same time, 15 workers were injured in a collision between the Ceramic Company's bus and a lorry car on Ain al-Sokhna-Suez Road, as the bus traveled to company factories.
Chief of Suez Security Directorate Mohammed Gad was informed by road security forces that the crash occurred after when the lorry car cut the road on the bus and crashed into it.
A medical source clarified that 15 workers transferred to Suez Health Insurance Hospital via 12 ambulance cars.
Sources added that physicians performed a surgery on the bus driver, who suffered serious injuries.
Egypt loses roughly 12,000 lives to traffic accidents every year. It has a road traffic fatality rate of 42 deaths per 100,000 people, according to the World Health Organization (WHO). The majority (48 percent) of those killed are passengers of four-wheelers, although pedestrians also constitute a significant 20 percent of these fatalities.
According to a Central Agency for Public Mobilization and Statistics (CAPMAS) report on accidents in 2017, car accidents on roads resulted in 3,747 deaths, 13,998 injuries, and 17,201 damaged vehicles.
The report added that the main cause of accidents was the human factor, with 78.9 percent of the total causes, followed by defects in the vehicle at 14 percent, and then environmental causes (such as road conditions) with 2 percent of total accidents.
Edited translation from Al-Masry Al-Youm