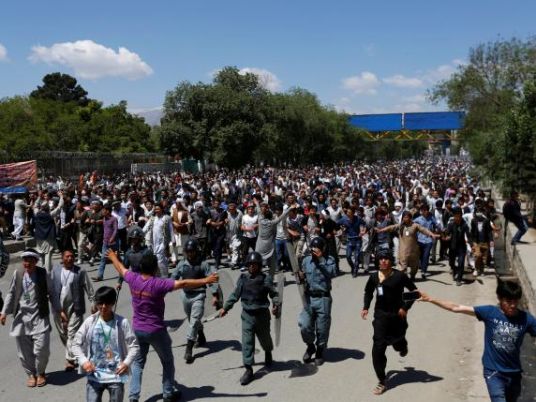 Thousands of demonstrators from Afghanistan's Hazara minority marched in protest through Kabul on Monday saying that they are missing out on a multi-million dollar power transmission line, posing a major challenge to the government of President Ashraf Ghani.
Protesters have been demanding that the planned route for the 500 kV transmission line linking Turkmenistan with Kabul be changed to pass through two provinces with large Hazara populations, an option the government says would cost millions and delay the badly needed project by years.
"We want our rights," said Abdul Rauf Safari, 35, a protester from Ghazni, a city in central Afghanistan with a large Hazara population. "We will no longer accept discrimination."
The transmission line, intended to provide secure power to 10 provinces, is part of the wider TUTAP project backed by the Asian Development Bank to link the energy-rich Central Asia republics of Turkmenistan, Uzbekistan and Tajikistan with Afghanistan and Pakistan.
Apart from isolated incidents, including reports that a television cameraman was beaten, the demonstration passed off peacefully. But it underscores the political tension facing the administration as it fights the Taliban-led insurgency and tries to get an economy shattered by decades of war back on its feet.
Monday's protest followed a rally in November against the murder of a group of Hazara people that became the biggest anti-government demonstration in Kabul for years.
Authorities, fearing a repeat of last year's violence, when demonstrators tried to scale the walls of the presidential palace, closed access, blocking streets into the main government area with stacked-up shipping containers.
The mainly Shi'ite Hazaras have long faced persecution but they are politically well organized and thousands gathered in a square away from the city center chanting "TUTAP is our right!" but they dispersed peacefully.
"Our movement will continue," Hazara leader Mohammad Karim Khalili told the crowd.
Only around 30 percent of Afghanistan is connected to electricity and modernizing the creaking power system, which is subject to frequent blackouts, has been a top priority.
Under current plans, due to be implemented by 2018, the line would pass from a converter station in the northern town of Pul-e-Khumri through the mountainous Salang pass to Kabul.
Demonstrators want an earlier version of the plan that would see a longer route from Pul-e-Khumri through the provinces of Bamyan and Wardak to the west of Kabul.